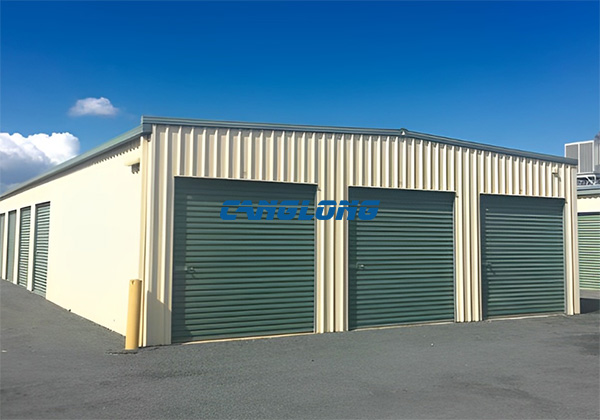 Steel Structure Garage
| | |
| --- | --- |
| Product performance | Steel structure building has the advantages of light weight, high strength and long service life. |
| Scope of application | Garage |
| Product Notes (Features) | Our products are all energy-saving and environment-protection materials, all materials can be reused. Each component is prefabricated, which saves you a lot of installation time and cost. |
| Obtained certification | CE certification |
| Solution | The design scheme and construction scheme can be customized according to special request of customers. |
Product Detail
The steel structure garage is a metal structure with a roof that provides protection against rain, snow and sun for tools such as cars, boats and bicycles. The Canglong Group has designed a number of metal garages of different sizes, styles and colors to meet your customer needs. In addition our steel garage buildings can also be customized to meet your customer needs.
Common garage doors are mainly remote, electric and manual. Among them, remote control, induction, and electric can all be collectively referred to as automatic garage doors. The main difference between a manual garage door and an automatic garage door is that there is no motor. Automatic garage doors are now mainly classified as: flap garage doors and roller shutter garage doors.

Steel structure three-dimension parking garage
The steel structure three-dimension parking garage to the storage facility, which is specially parked for various types of vehicles and is scientifically registered. It consists of six parts: steel frame, rotary table (with embedded type), conveyor or elevator, monitoring console and auxiliary equipment (fire, power distribution, anti-theft mechanism). The three-dimension parking garage fully utilizes ground space, effectively utilizes the land area available for parking, and increases the number of parking spaces in the area. The structure is simple, production process is simple, the installation is simple, the using is simple, the invention is novel, economical and practical. It is safe and reliable, runs smoothly, has low noise, low cost, low energy consumption and wide application range.
The three-dimension parking garage is divided into independent type and built-in form. The independent parking building is suitable for underground plazas and existing building supplementary parking facilities. The built-in stereo garage is suitable for simultaneous planning and construction with new buildings. Parking equipment is attached to the building and has no impact on regional environmental planning and architectural outlook.
The steel structure of the three-dimension parking garage is mainly welded with hot-rolled H-shaped steel, channel steel, angle steel, steel plate, etc., and then connected with high-strength bolts into a frame structure, which has good strength and rigidity. According to differently structural requirements, there are single column form, cross beam form, rear cantilever form and so on. The vehicle is used to carry the access vehicle, and has two kinds of frame structure and panel structure. The frame structure of the car board is welded by steel and steel plates. Most of them are in the form of intermediate protrusions. The steel plate is laid on the top. The advantage is that the width can be designed as request, and the introduction function is better. It is suitable for small batch production with great changes. The slab-plated steel plate is stamped or rolled into an assembly with galvanized steel. It is assembled into a carrier plate by bite and fastened with high-strength bolts. This carrier plate is light and beautiful, convenient to transport, and interchangeable. Suitable for mass production.
Application of steel structure garage

Our company has many years of experience in designing parking garage, providing quality products with the best possible price, creating a pleasant purchasement experience for all types of metal garage buyers. Whether you are looking for a metal garage, bicycle garage or boathouse, we can meet your needs.
Metal garage frame kits and panel material
Garage

Q235, Q345 Welded H Section Steel

Q235, Q345 Welded H Section Steel

Vertical and Horizontal Support

Q235 Angle Steel, Round Bar or Steel Pipe

Steel Plated, Sandwich Panel(EPS/PU/Firberglass/Rock Wool)

Steel Plated, Sandwich Panel(EPS/PU/Firberglass/Rock Wool)

Plastic steel or Aluminum alloy window

Rolled up door or Sliding door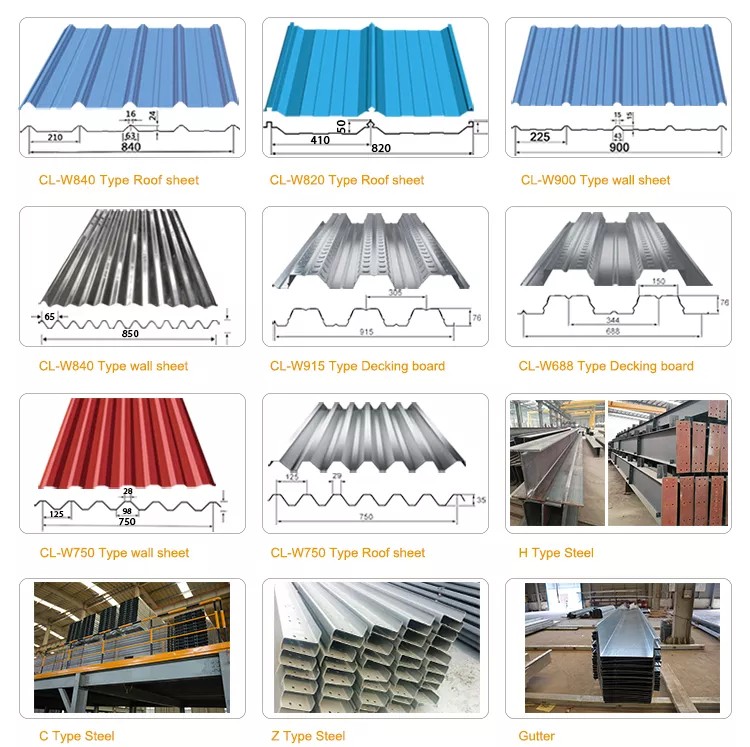 Get a Free quote