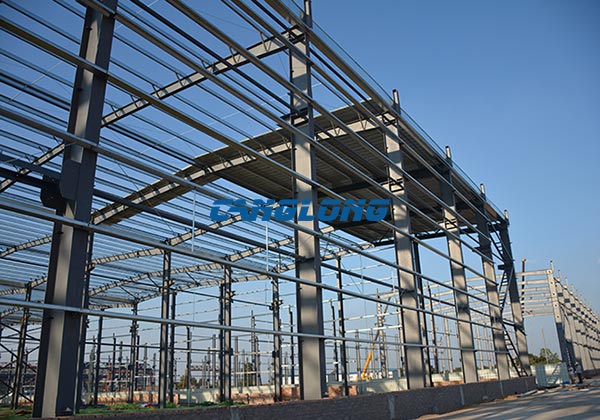 Steel Structure
Advantage
The material has high strength and light weight.
Steel has good toughness and plasticity, uniform material and high structural reliability.
High degree of mechanization in steel structure manufacturing and installation.
Good sealing performance of steel structure.
Low carbon, energy saving, green and environmental protection, and can be reused.
Product Detail
Steel structure is a structure composed of steel materials, which is one of the main types of building structures. The structure is mainly composed of steel beams, steel columns, steel trusses and other components made of section steel and steel plates, and adopts rust removal and rust prevention processes such as silylation, pure manganese phosphating, water washing and drying, galvanizing and so on. The members or components are usually connected by welds, bolts or rivets. Because of its light weight and simple construction, it is widely used in large factories, venues, super high-rise buildings and other fields. The steel structure is easy to rust. Generally, the steel structure shall be derusted, galvanized or coated, and shall be maintained regularly.
Steel is characterized by high strength, light weight, good overall stiffness and strong deformation resistance. Therefore, it is particularly suitable for the construction of long-span, ultra-high and ultra-heavy buildings; The material has good homogeneity and isotropy. It is an ideal elastomer, which is most in line with the basic assumptions of general engineering mechanics; The material has good plasticity and toughness, can have large deformation, and can well bear dynamic load; Short construction period; It has a high degree of industrialization and can carry out professional production with a high degree of mechanization.
Steel structure building Compared with traditional concrete buildings, steel structure buildings use steel plates or section steel to replace reinforced concrete, which is stronger and more resistant to earthquakes. And because the component can be factory made, site installation, thus greatly reducing the construction period. Due to the reusable steel, it can be greatly reduced the construction waste, and more green environmental protection, so it is widely used in industrial buildings and civil buildings over the world.
The roof and wall can be made of sandwich panel or veneer. Galvanized sheet metal can prevent rust and corrosion. The use of self-tapping screw can make the connection between the plates more closely, to prevent leakage. You can also use composite panel for roof and wall. The sandwich can be polystyrene, glasswool, rockwool, polyurethane. They have good thermal insulation, heat insulation, fire-retardant. The wall of the steel structure maintenance also can use brick wall. However, the cost of a brick wall is higher than galvanized steel roof and wall.
The usage scale includes large-scale workshop, warehouse, supermarkets, entertainment centers and modular steel structure garage, and farm chicken house even hangar as well.
Prefabricated Steel Structure workshop/warehouse/factory building sale
Specifications
1) Main Steel:
Q345, Q235, Q345B, Q235B etc.
2) Column & Beam:
Welded or Hot rolled H-section
3) Connection method of steel structure:
welding connection or bolt connection
4) Wall & Roof:
EPS, Rockwool, PU sandwich, corrugated steel sheet
5) Door:
Rolled up door or Sliding door
6) Window:
Plastic steel or Aluminum alloy window
7) Surface:
Hot dip galvanized or painted
8) Crane:
5MT, 10MT, 15MT and more
Product advantages:
Free design architectural drawings for you.
Features: Fast and flexible to assemble, safe, thermal and noise insulation, water proof and fire prevention.
Cost-effective: Fast and easy installation greatly shorten the construction time which reduce the costs.
Durability: The whole structure is easy in maintenance, which can be used for more than 50 years.
Perfect design: Perfect design completely avoids leaks and water seepage. Meanwhile, it's also in line with the national level of fire prevention.
Carrying capacity: can resists the impact of strong wind and seismic performance and bears heavy snow loads.
OUR TEAM OF EXPERT
The team of experts is very skilled, with many years of experience. Most of them have been in-depth training in the field of construction, construction methods, construction of pre engineered steel overseas, have more experience in construction of large steel works.
ENSURE APPROPRIATE OPTION
We build the professional constructions, on time with the set time frame; To achieve this, before deploying everything, the company's engineers will prepare and plan to avoid the slightest errors.
SAFETY FIRST
With the motto of managing "Labor Safety first", the quality of the project must always ensure the original commitment. All technical standards for safety and quality are supervised by supervisors at the highest level.
INTERNATIONAL STANDARD
Using the management system based on ISO 9001: 2015 standard, we have produced a lot of high quality steel structure products used for many domestic and foreign large scale projects. FACTORY CAPACITY Modern technology and machinery, applying the latest design and manufacturing technologies. We are constantly researching new optimal solutions to perfect the product.
ENSURE THE BEST PRICE
Canglong Group provides a comprehensive solution, we are proactive in all, from consultancy, design, production, construction, erection to completion of the project. In addition, we will offer prices to clients based on actual needs and situation. EXPORT STEEL STRUCTURE Xinguangzheng is one of the leading steel structure exporters in China. So far, we have successfully exported steel structures to 80 countries in Southeast Asia, USA, Australia, Europe, Africa, etc.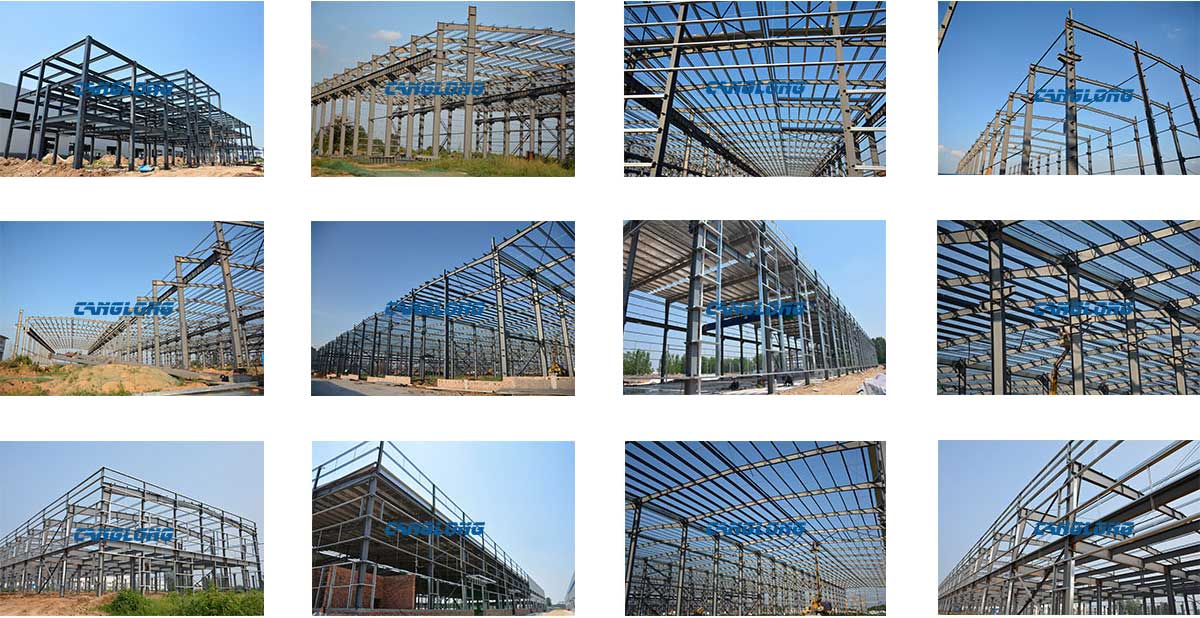 We can do free architectural drawings and detailed quotation sheet depend on each customer special requests, as specifications of each customer is not same thus price is also difference, so if you want to build a steel structure please let me know below requests to provide one accurate quotation:
– size(long x wide x high) ?
It will be more helpful to have a building rough plan or hand sketch to check layout.
– building location city ?
We need consider local weather(max wind speed, snowfall, etc) to calculate safe roof loading and steel structure use quantity.
– roof and wall material ?
We have insulated 50/75/100/120/150/200mm thick eps/rock wool/glass wool/pu sandwich panel and also cheap non insulation 0.2-0.8mm single layer steel sheet.
– door and window request ?
We could also provide suggestions or recommend them based on your building usage.
– other requests ?
We will be here waiting for your inquiry about steel structure and explore an opportunity to work with you.
Steel structure production and processing workshop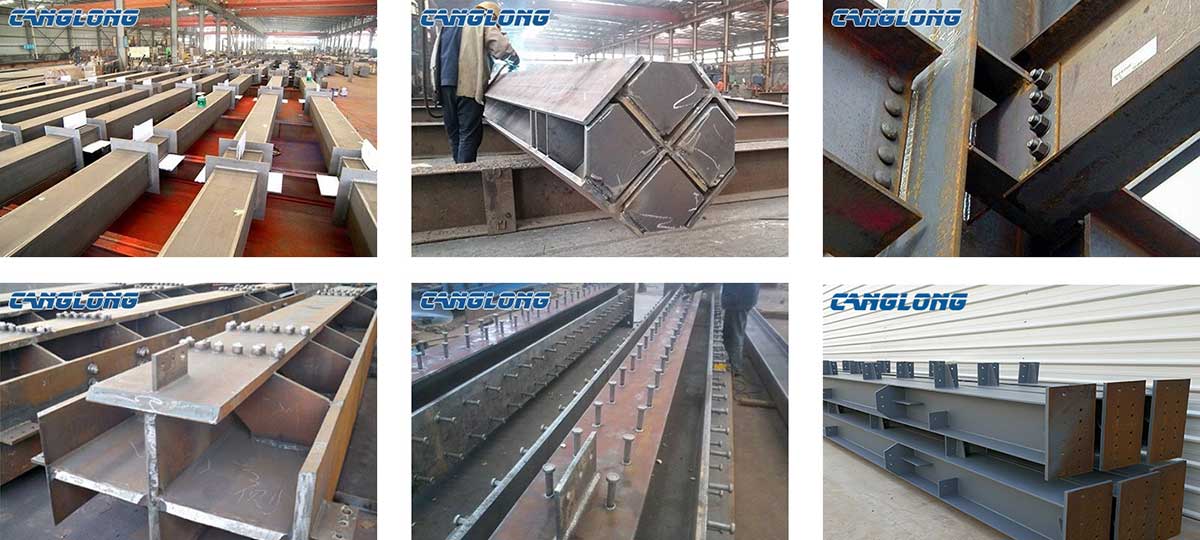 Get a Free quote