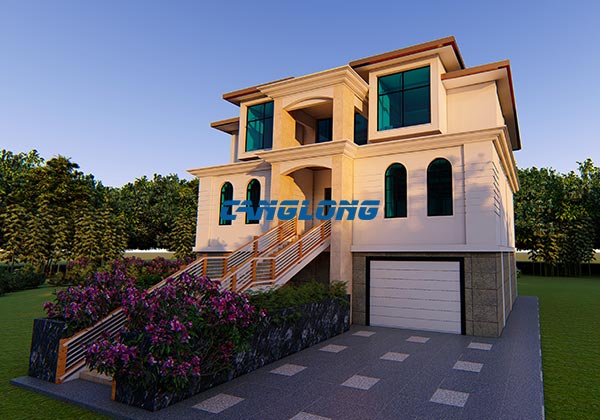 Light Steel Villa
Product Parameter
Place of Origin:
Henan, China (Mainland)
Standard:
GB Standard
Certificates:
CE, ISO9001
Grade:
Q235/Q355
Brand Name:
Canglong Group
Surface Treatment:
Painted & Hot dip galvanized
Material:
Steel and sandwich Panel
Window:
PVC or aluminium window
Door:
Steel Security Door
Product Detail
Light Steel Structure Villa
Light steel villas, also known as light steel structure houses, are mainly made of hot-dip galvanized steel strip and cold-rolled light steel keel.
After accurate mechanical calculation, their bearing capacity is more reasonable, and can replace traditional houses.
In order to ensure the thermal insulation of light steel villas, We take effective measures:
1. Filling glass fibers between walls and columns,this effectively prevents the thermal bridge;
2. Filling glass fibers between floors to reduce the heat transfer through the floors;
3. Attaching anotherlayer of thermal insulation material to the exterior walls.

Compared with traditional houses, light steel villas have outstanding advantages:
1. High degree of industrialization,mechanization and commercialization;
2. High construction speed,Low influence on the nearby residents, High civilized construction;
3. Environment-friendly,Recyclable;
4. Light weightedand good seismic performance;
5. Comparingwith traditional houses, light steel villas avoid the waste of resources;
6. Thinner wall thicknesscan increase the effective use area;
Construction of light steel villa
Floor structure
The floor of is composed of cold-formed thin-walled steel frame or composite beams, OSB board, and other supporting/connecting components, etc.
The materials are directional particleboard, cement fiberboard and plywood.
The floor can bear load ranging from 316 to 365 kg per sqm.
The weight of this floor is 1/4 to 1/6 of the traditional concrete floor.
The floor structure's height is 100-120 mm higher than that of traditional concrete floor.

Roof system
The roof system is composed of roof truss, structural OSB board, waterproof layer and light roof tile (metal or asphalt tile). The better appearance can be achieved by combining different materials.
Wall structure
The walls are mainly composed of walls, pillars, top beams, bottom beams, supporting, wall panels and connectors.
Light steel villa generally take the inner transverse wall as the load-bearing wall, and pillars are  made of C-section steel (thickness is usually 0.84mm-2 mm according to the load);
The spacing between pillars is 400mm-600 mm.
The wall structure can effectively bear and transmit vertical loads, and the layout is convenient.
Steel structure production workshop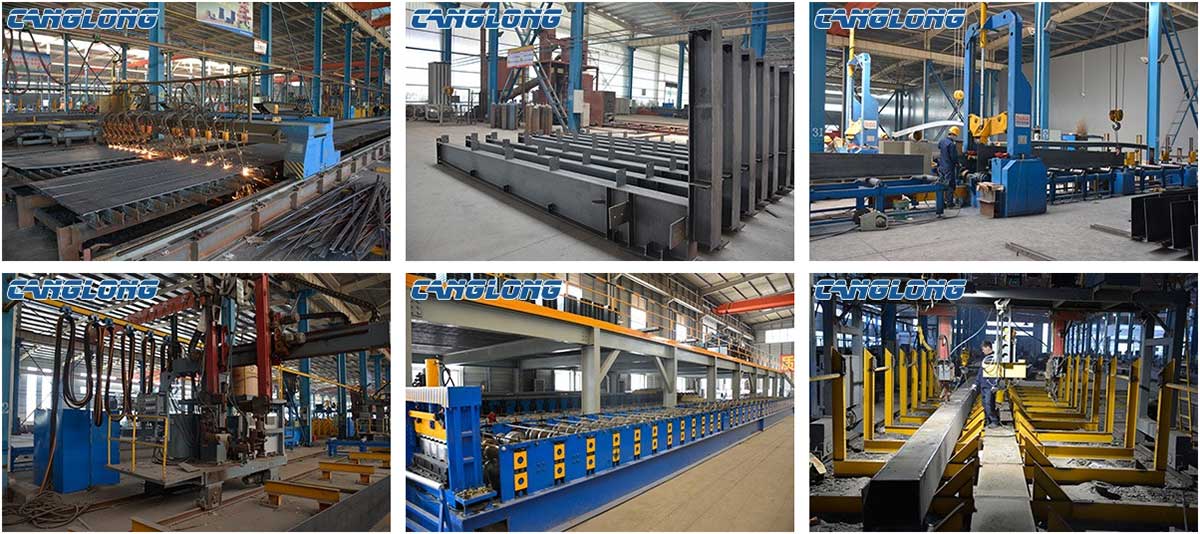 Get a Free quote