Prefab Steel Warehouse Building
PRODUCT PARAMETER
Place of Origin:
Henan, China (Mainland)
Standard:
GB Standard
Certificates:
CE, ISO9001
Grade:
Q235 / Q355
Brand Name:
Canglong Group
Type:
Light Steel Structure
Surface Treatment:
Painted & Hot dip galvanized
Columns and Beams:
H-section Steel
Purlin:
C.Z Shape Steel Channel
Roof and Wall Panel:
Sandwich Panel, Color Steel Sheet
Product Detail
The prefab steel warehouse building is a steel structure warehouse customized according to the customer's architectural and structural requirements. All components are produced in the factory and then assembled in a reasonable and orderly manner at the construction site.
Fabricated metal warehouse has many uses in its applications, and is suitable for industrial, commercial and agricultural buildings. Compared with other structures (such as wood structure and concrete structure), steel structure has the advantages of high strength, durability, versatility, economy and so on. The raw materials of the steel structure are welded together to form according to the specific requirements of the metal structure building.

Components of prefabricated steel warehouse building
Main components: steel column, roof beam, crane beam and floor beam.
Secondary components include bracing, tie beams, roof purlins, and wall beams.
Corrugated metal color plate or sandwich plate shall be used for roof and wall panels.
Technical parameters:
Width length height: there is no size limit according to the needs of customers.
Roof slope: the average roof slope is 1:10 or 1:12, which is customized according to the roof drainage.
Column spacing: the distance from the long side of the building to the column axis is determined by the length of the building, and the economic range is 7m ~ 9m.
Load: including live load, dead load, additional load, wind speed, snow load, internal heavy load of crane, etc.

Design of prefab steel warehouse building
1. Fire protection design of prefabricated steel structure warehouse building
The disadvantage of steel structure is low fire resistance. Although it has no combustion performance without fire treatment, its mechanical indexes will change with the change of temperature.
When the temperature reaches 100 ℃, the tensile strength of the steel decreases and the plasticity increases. When the temperature reaches 250 ℃, the tensile strength of the steel will increase slightly, but the plasticity will decrease. When the ambient temperature reaches 500 ℃, the strength of steel will be reduced to the minimum, resulting in the collapse of metal fabricated buildings. Therefore, when the ambient temperature of the steel structure is above 150 ℃, the thermal insulation and fire protection design must be carried out.
2. Fire protection measures for metal structures
Spraying method refers to coating a layer of fire-resistant coating on the surface of metal structures to form a protective film to improve the fire resistance limit of steel members.
Covering method refers to wrapping the steel structure with calcium silicate board, concrete, brick and other materials, and then forming a protective layer to increase the fire resistance of steel members.
The water spray cooling method is to set up an automatic sprinkler system on the upper part of the steel structure. In case of fire, a continuous water film will be formed on the surface of the steel structure to protect it.
3. set temperature expansion joint
Temperature change will cause deformation of prefab metal warehouse buildings, which will cause thermal stress to the structure. When the plane size of metal buildings is large, in order to avoid high-temperature stress, temperature expansion joints shall be set on the long and wide sides of metal buildings.
4. Antirust treatment
Antirust primer and finish paint are usually used for antirust treatment of steel structures. The number of layers and thickness of the coating usually depend on the environment and coating performance.
Generally, under the action of natural atmospheric medium, the paint film thickness of indoor steel structure is required to be 100 μ m. I.e. two undercoats and two finishing coats. For open-air steel structures or steel structures affected by industrial atmospheric media, the paint film thickness shall be 150μm~ 200μm.
Main Components For Prefab Steel Warehouse Building
Product name
prefab steel warehouse building
Clear span:
(width)
6~50m without middle coulumn
Height
2~20m
Length
as your requirment
Material Grade
Q345(S355JR)or Q235(S235JR) steel or as request
Column & Rafter
Welded or Hot rolled H beam
Tie beam
round pipe or square tube or as request
X brace
round steel bar,angle steel or as request
Purlin
C purlin, Z purlin,thickness2.0mm,2.2mm,2.5mm,3.0mm
sag rod
steel round bar, angle, C purlin etc
Wall & Roof
single corrugated steel sheet (0.3~0.8mm)
EPS, Rockwool, PU sandwich Pannel
(Thcikness:50mm,75mm,100mm,150mm,200mm)
Gate
Electric roller shutter door
Sliding door
Exit Door
Plastic steel swing door
Aluminum alloy swing door
steel swing door
Window
Plastic steel sliding window
Aluminum alloy sliding window
Surface
Shot blasting with anti rust paint
hot dip galvanize
Certificate
ISO99001,CE EN1090 EXC2 ,IWE etc
Quality Control
The third party ,SGS, ASIA INSPECTION all accept
Crane
5MT, 10MT, 15MT, etc.
Other accessories
gutter,flash trimming cover,down spout, ventilation fiting,
skylight belt,bolt, anchor bolt, self tapping screw etc
Package
main steel frame  load in 40'OT,roof and wall panel load in 40'HQ!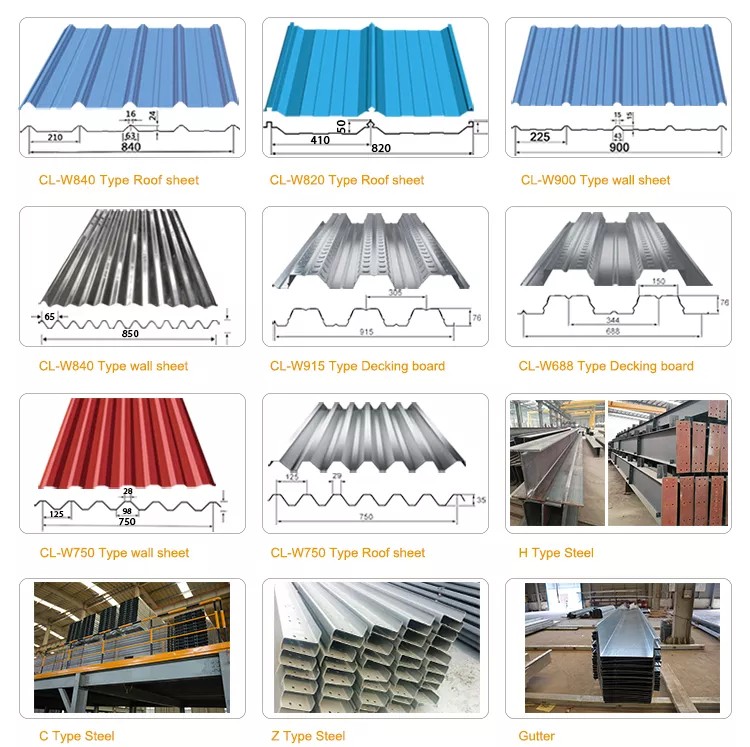 Type of roof structure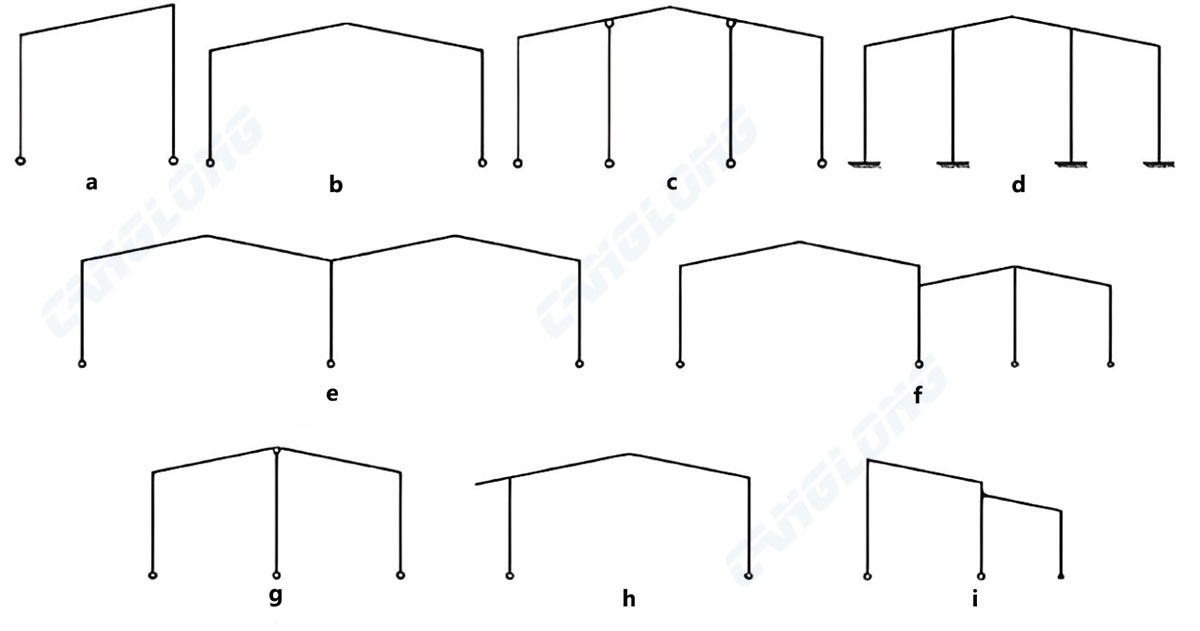 Get a Free quote