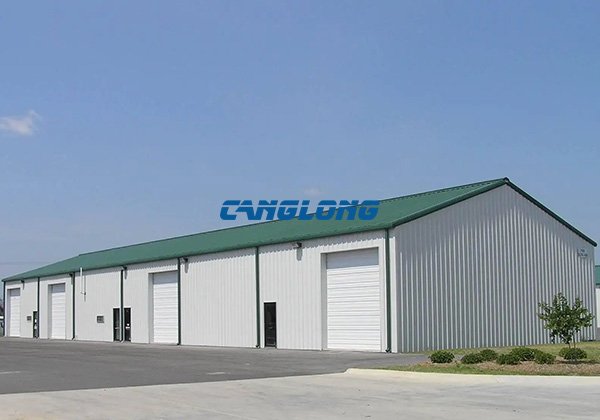 Metal Structure Warehouse
PRODUCT PARAMETER
Place of Origin:
Henan, China (Mainland)
Standard:
GB Standard
Certificates:
CE, ISO9001
Grade:
Q235 / Q355
Brand Name:
Canglong Group
Type:
Light Steel Structure
Surface Treatment:
Painted & Hot dip galvanized
Columns and Beams:
H-section Steel
Purlin:
C.Z Shape Steel Channel
Roof and Wall Panel:
Sandwich Panel, Color Steel Sheet
Product Detail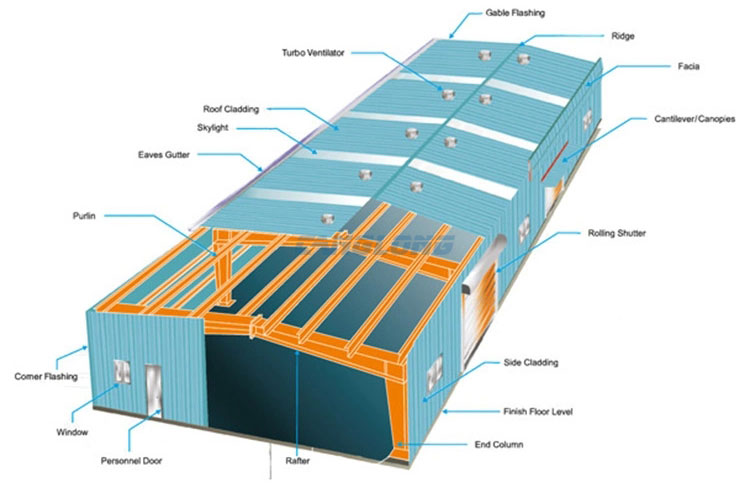 As the steel structure warehouse has the advantage of clear span, it can provide the most significant use space and does not need column support inside. Therefore, the metal structure warehouse can better meet the needs of goods storage and logistics turnover. So you won't encounter obstacles when storing goods or driving forklifts. You can add a mezzanine structure to serve as a warehouse office or additional storage space.
Design of metal structure warehouse
When designing the steel structure warehouse building. Canglong group will design according to the requirements of maximum span, so as to make the warehouse building get the most effective space utilization and improve the economic benefits of the whole metal structure warehouse building.
Metal steel structure warehouses can be designed as single-layer or multi-layer buildings. The flexible design without any size restriction can be expanded on the basis of the original building in the future. Prefabricated metal warehouse building roof wallboard installation is simple and construction speed is fast. Insulation cotton can also be added to roofs and walls to save energy.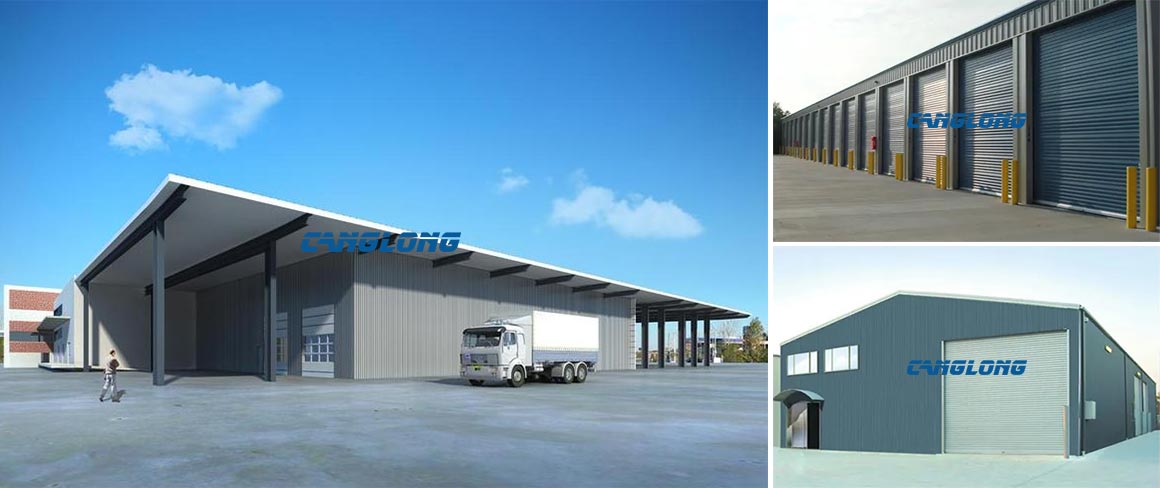 Advantages of metal structure warehouse
1. The construction time is saved and the installation is not affected by seasons.
2. Increase the use of space and reduce construction waste and environmental pollution.
3. reusable building materials drive the development of other new building materials.
4. Good seismic performance, easy to modify in use, flexible and convenient.
5. High strength, light weight and low cost.
6. In line with the sustainable development strategy, it is low-carbon, green, environmentally friendly and energy-saving.

Disadvantages of metal structure warehouse
1. it is heat-resistant and fire-resistant, so it is necessary to apply fireproof coating on the surface.
2. it is easy to be damaged, and the surface needs to be coated with anti-corrosion paint to reduce or avoid corrosion and improve durability.
The advantages of steel structure warehouse buildings far outweigh their disadvantages, which makes steel structure buildings widely used in industrial buildings.
Main Components For Metal Structure Warehouse
Specifications:
1) Main Steel:
Q355, Q235, Q355B, Q235B, etc.
2) Column & Beam:
Welded or Hot rolled H-section
3) Connection method of steel structure:
Welding connection or bolt connection
4) Wall & Roof:
EPS, PU sandwich, corrugated steel sheet
5) Door:
Rolled up door or Sliding door
6) Window:
Plastic steel or Aluminum alloy window
7) Surface:
Hot-dip galvanized or painted
8) Crane:
5MT, 10MT, 15MT, and more
Drawings & Quotation:
1) Customized design is welcomed.
2) In order to give you an exact quotation and drawings, please let us know the length, width, eave height, and local weather. We will quote for you promptly.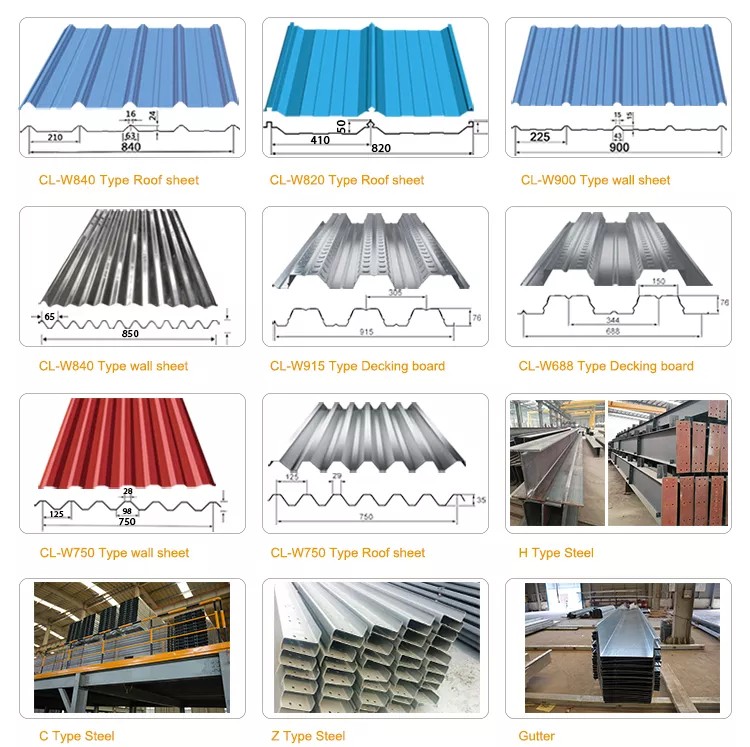 Type of roof frame structure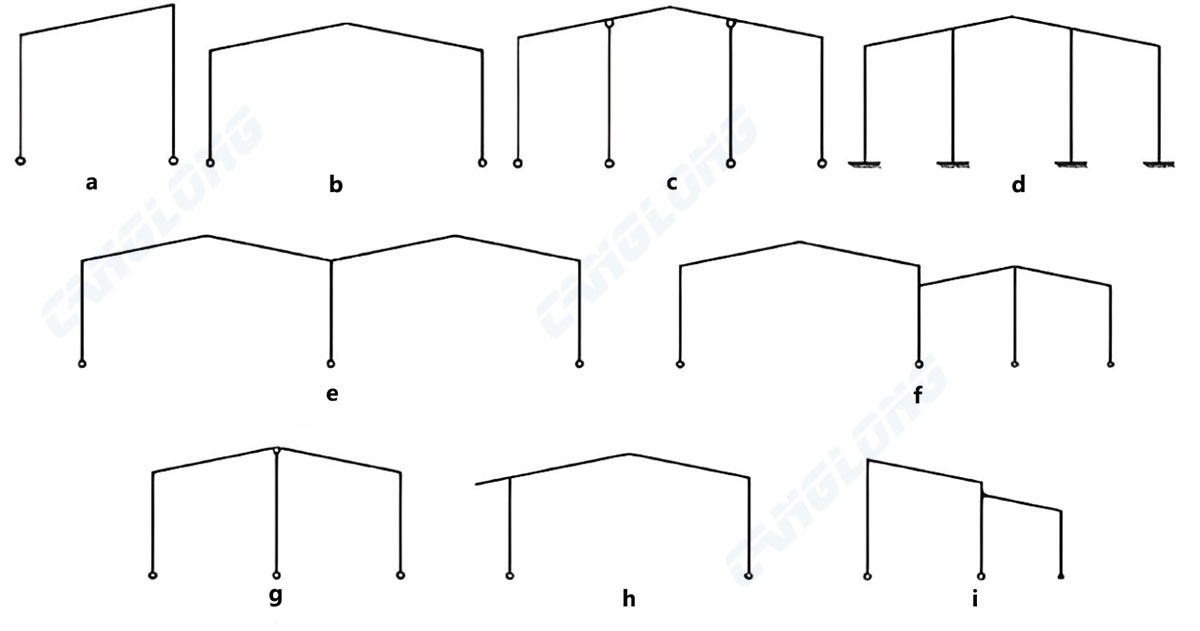 Get a Free quote