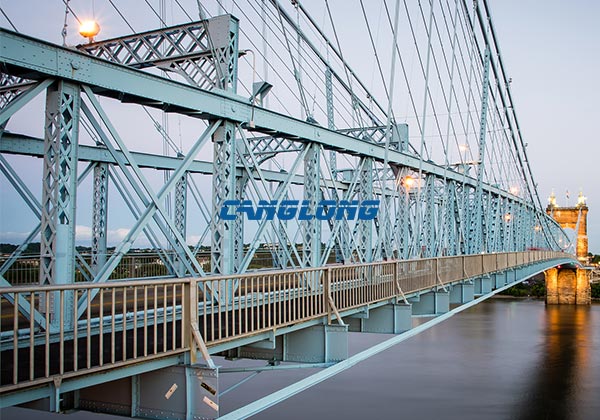 Steel Structure Bridge
PRODUCT PARAMETER
Place of Origin:
Henan, China (Mainland)
Standard:
GB Standard
Certificates:
CE, ISO9001
Grade:
Q235/Q355
Brand Name:
Canglong Group
Type:
Heavy Steel Structure
Surface Treatment:
Painted & Hot dip galvanized
Product Detail
Steel structure bridge is the main load-bearing structure using steel bridge. Based on the main stress components, steel-frame bridges can be divided into steel arch bridges, cable-stayed bridges and suspension bridges.
Steel Structure Bridge is a form of bridge, which means that the main load-bearing part of the upper structure of a bridge is made of steel. Like bridges, steel structure bridges are air roads that span rivers, lakes, and ocean obstacles. Most of the long-span bridges are prestressed steel concrete bridges and steel structure bridges.
The structure of the steel structure bridge consists of the main bridge along its longitudinal direction. The span between the piers is called the span, the section of the main bridge spanning the main navigation hole is called the main span, and the span is the side span. The main materials used for steel structure bridges are steel plate, section steel and high strength. The steel plate is mostly made of low-alloy steel, and the parts are made of cast steel and high-quality carbon. The main types of steel beams are ribbed beams, box beams, truss beams and composite beams.

Advantages of steel structure bridges:
1. The construction period is extremely short, and the actual construction period can be completed within a few days. Because all structural components are prefabricated in the factory, they can be pulled to the site for hoisting.
2. Easy to disassemble. If it needs to be removed later, the bolts can be removed directly, and all the steel can be reused for other buildings.
3. The appearance is light and beautiful.
4. Post-processing is convenient. For example, you need to add components on it and weld them on.
Get a Free quote