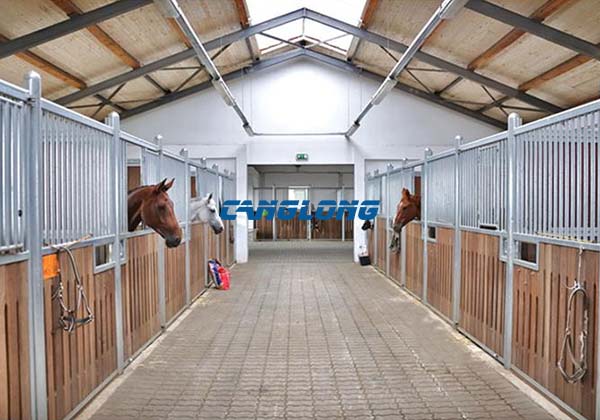 Steel Structure Horse Shed
Product Parameter
Place of Origin:
Henan, China (Mainland)
Standard:
GB Standard
Certificate:
CE, ISO9001
Grade:
Q235/Q355
Brand Name:
Canglong Group
Type:
Light Steel Structure
Surface Treatment:
Painted & Hot dip galvanized
Columns and Beams:
H-section Steel
Purlin:
C.Z Shape Steel Channel
Roof and Wall Panel:
Sandwich Panel, Color Steel Sheet
Product Detail
Design of horse shed
Horse shed are one of the core facilities of the horse farm and the residence of horses. The design and construction of horse house need to comply with the principles of horse comfort and safety. The design of stable is particularly important, because the horses stay in there for a long time.

Construction of horse house
1. The size of the horse's bed. The general design of the horse bed is to make the horse's forequarters close to the rear wall of the trough, and the hind limbs close to the edge of the horse bed, so that the feces can directly fall into the fecal ditch.
2. The feeding trough can be built into fixed and movable ones.
3. Feed channel: a feed channel is set in front of the trough.
4. The door of the horse pen: the horse pen is usually at both ends of the house, that is, facing the central feed channel, and is set at two side doors. For the longer horse pen, a door is also set on the leeward and sunny side of the longitudinal wall to facilitate the access of people and horses. The door should be made into a double push door without a sill.
5. Playground: a playground shall be set up in the house where stallions and calves are raised. The playground is mostly located in the spare area between the two houses, surrounded by fences, and the horses are tied or scattered in it.

Application of steel structure in farm buildings

Get a Free quote