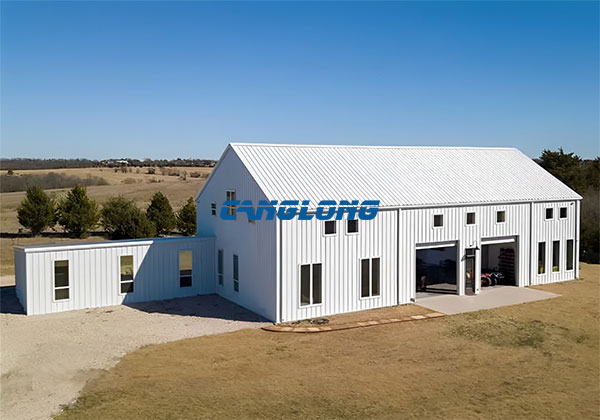 Metal Building Homes
Product Parameter
Place of Origin:
Henan, China (Mainland)
Standard:
EU Standard, ASTM Standard, BS Standard
Certificates:
CE, ISO9001
Grade:
Q235/Q355
Brand Name:
Canglong Group
Type:
Steel Frame Structure
Surface Treatment:
Painted & Hot dip galvanized
Columns and Beams:
H-section Steel
Purlin:
C.Z Shape Steel Channel
Roof and Wall Panel:
Sandwich Panel, Color Steel Plate
Product Detail
Metal building is a new type of building structure – the whole building is made of steel. The structure is mainly composed of steel beams, columns, trusses and other components made of thin-walled steel and steel plates. It uses welding or bolts to connect parts. It uses less resources than wood and concrete buildings through prefabricated components to save construction time and thus can be completed quickly. Compared with wood structure and concrete structure, metal building is a durable, low-maintenance and more cost-effective solution for workshops, warehouses, agricultural buildings, garage buildings, aircraft hangars and residential buildings.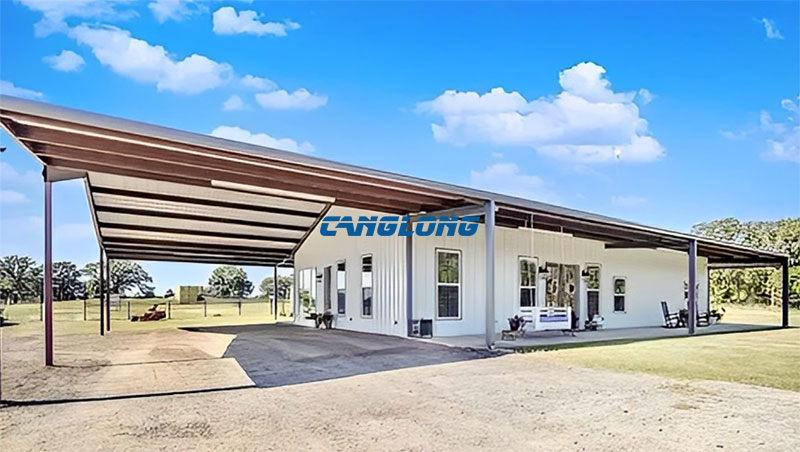 Metal structure building is the most affordable and durable solution for warehouse, workshop, agriculture, garage building and homes. They can resist termites, strong winds and heavy snow. In addition, the internal layout of metal buildings can be completely customized to meet your needs.
Metal building homes are fabricated steel buildings, which can be your long-term or temporary residence and bring you a comfortable living environment. Steel is more resistant to strong winds, heavy snow, termites and other pests than wood structure. In addition, steel house kits provide affordable, durable and low-cost solutions for various purposes. If you want to build a garage for your car, this metal building homes can be designed with a garage. Just say what you think and we will try to meet your requirements.

Metal building is an economical and practical solution, suitable for various commercial, industrial and public purposes. Our structural engineers design buildings according to local wind and snow loads to ensure that the whole structure can withstand severe weather conditions.
The steel structure installation is fast and simple, and the construction time is the shortest. The steel parts shall be pre-cut, welded, drilled, sandblasted and painted in our factory before being delivered to the site for installation. This does not require additional drilling or cutting on site, thus minimizing environmental pollution. In addition, the enclosure system is assembled with overlapping design without openings, which helps keep your building warm in winter and cool in summer and saves energy costs.

Factors affecting metal building price
1. Price of raw materials
The price of raw materials has a great impact on the cost of building metal structures, so the fluctuation of steel prices often drives the change of the overall price of metal structures.
2. External load
The external load determines the size and strength of the steel structure. If the load is large, the steel consumption in construction will increase. If a structure bears wind load or snow load, both of which are natural static loads, it should use more steel than other buildings built at the same time.
3. Steel frame span
The larger the span of the steel frame, the greater the amount of steel used for a single frame. More than 30 meters is considered as a large width. If the steel frame span is large and there is no middle column, the steel consumption will increase.
4. Structure
If there is a crane or mezzanine in the metal structure building, it needs to meet the relevant requirements of crane safety and safe operation. When calculating the design strength of the steel column, the size of the column will be increased and the constant section will be used. This will increase the steel used in the building to support more weight.
Get a Free quote