Prefab Garage Shop
Product Parameter
Place of Origin:
Henan, China (Mainland)
Standard:
GB Standard, EU Standard, ASTM Standard
Certificates:
CE, ISO9001
Grade:
Q235/Q355
Brand Name:
Canglong Group
Type:
Light Steel Structure
Surface Treatment:
Antirust painted & Hot dip galvanized
Columns and Beams:
H-section Steel
Purlin:
C.Z Shape Steel Channel
Roof and Wall Panel:
Sandwich Panel, Color Steel Sheet
Product Detail
Prefab garage shops are custom-made steel structures according to the client's architectural and structural requirements. All the components of the steel structure garage are produced in the factory, and then assembled reasonably and orderly at the construction site.
Prefabricated metal shop buildings have many uses in applications and are suitable for industrial, commercial and agricultural buildings. Compared with other structures, steel structures have the advantages of high strength, durability, versatility and economy. The raw materials of the steel structure are welded together and formed according to the specific requirements of the metal structure building.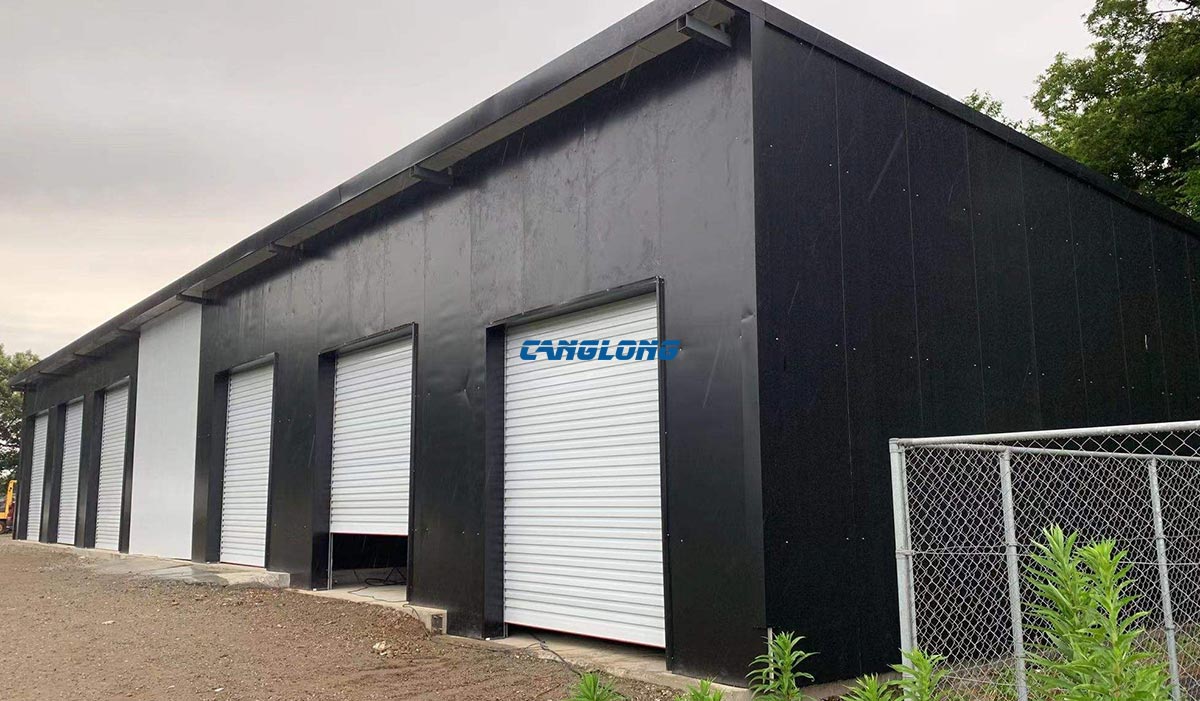 Prefab Garage Shop Components
Main components: steel columns, top beams, crane beams, ground beams.
Secondary members include braces, tie beams, roof purlins, and wall beams.
Corrugated metal color panels or sandwich panels are used for roof and wall panels.
The main function of a metal building garage workshop is to store and protect vehicles. The steel structure is the highest quality building material, durable and requires no maintenance in the future. Unlike wood, it deteriorates after a few years and needs to be replaced periodically.
Compared with concrete structures, steel building kits have excellent seismic performance. In earthquake-prone areas, prefabricated metal structures are the best building structures. In addition, prefabricated steel buildings are simple to install and can be constructed at one-third the speed of concrete structures.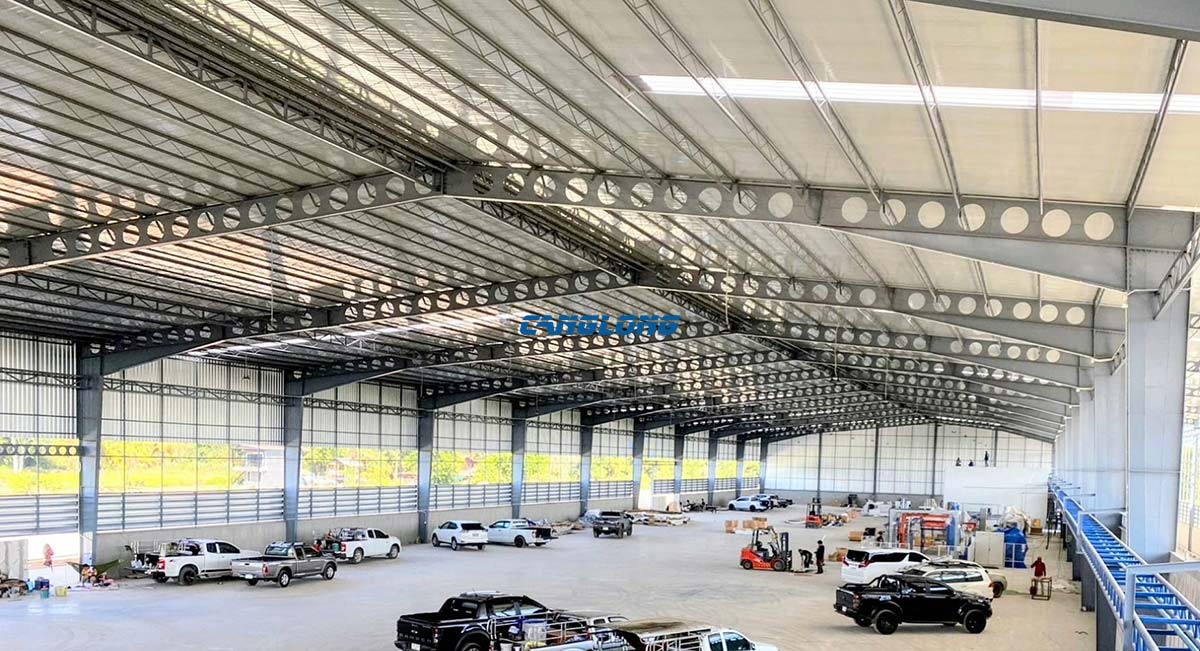 Prefab Garage Shop Features
1. The metal building garage workshop can adopt light steel structure, which can reduce the cross-sectional size of beams and columns and reduce the cost of foundation.
2. The size of the metal garage is not limited, and the width is designed according to the actual use. It can be created as a shed or gable roof. The span can be designed to be 9-36m, the column spacing is 6m, and the column height is 4.5-9m.
3. The support is connected to the column web directly or through the horizontal gusset plate, and the rod steel can be tensioned with a turnbuckle.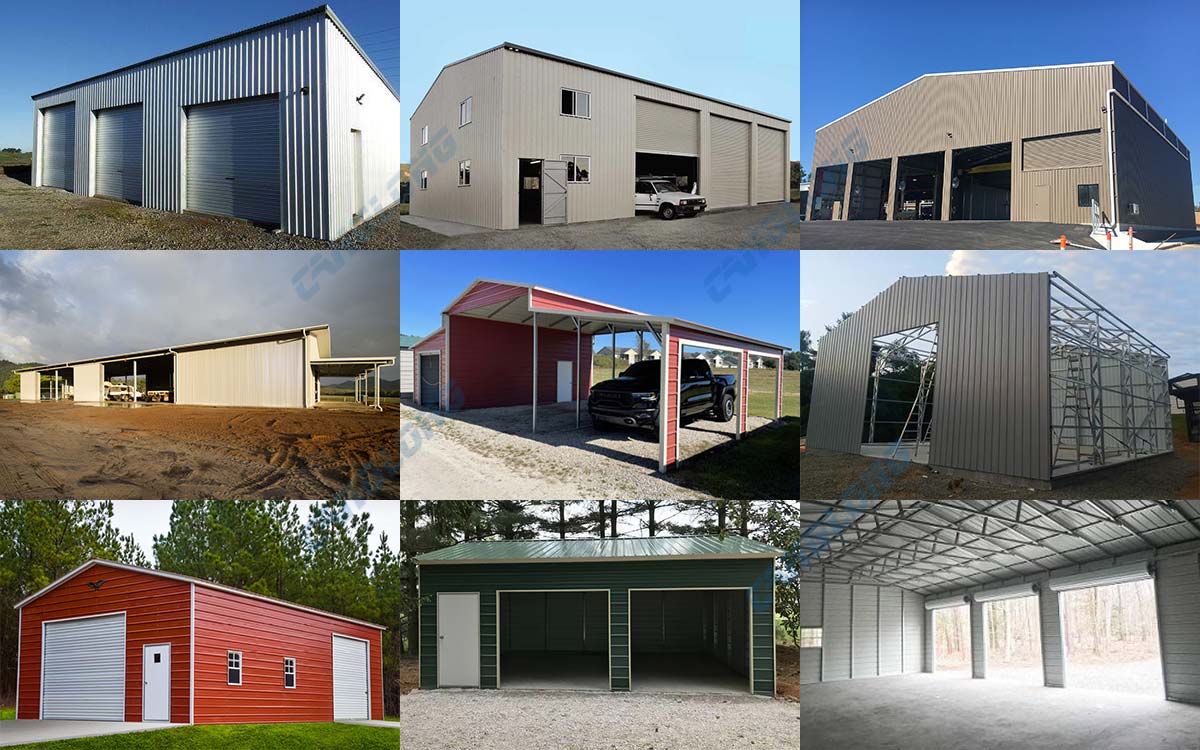 Get a Free quote