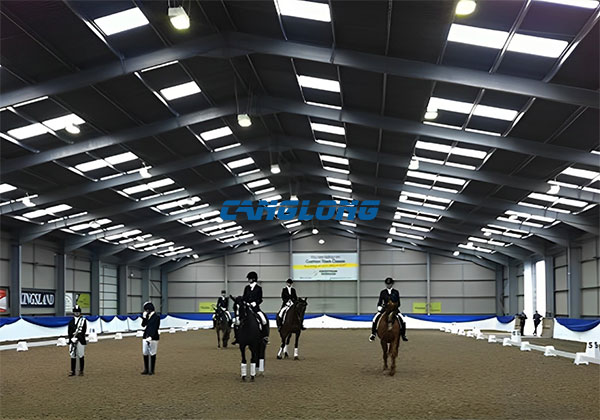 Indoor Riding Arena
PRODUCT PARAMETER
Place of Origin:
Henan, China (Mainland)
Standard:
GB/EU/ASTM/BS/AS/NZS Standard
Certificates:
CE, ISO9001
Grade:
Q235 / Q355
Type:
Steel Frame Structure
Surface Treatment:
Painted & Hot dip galvanized
Columns and Beams:
H-section Steel
Purlin:
C.Z Shape Steel Channel
Customized:
Customizable according to drawings
Product Detail
An indoor riding arena can be a worthwhile investment. Even in sunny areas where the weather can get too wet or cold for weeks on end to walk outside, investing in an indoor steel building riding arena makes a lot of sense.
The indoor racetrack provided by our company is a steel structure building. This type of structure consists of a steel frame covered with a translucent roof, usually made of polyethylene. Metal panels can be used for the roof. The maximum free width of the steel structure can be extended up to 60m, making it an ideal structure type for indoor riding arena construction projects. But it has a major disadvantage, it is very difficult to insulate.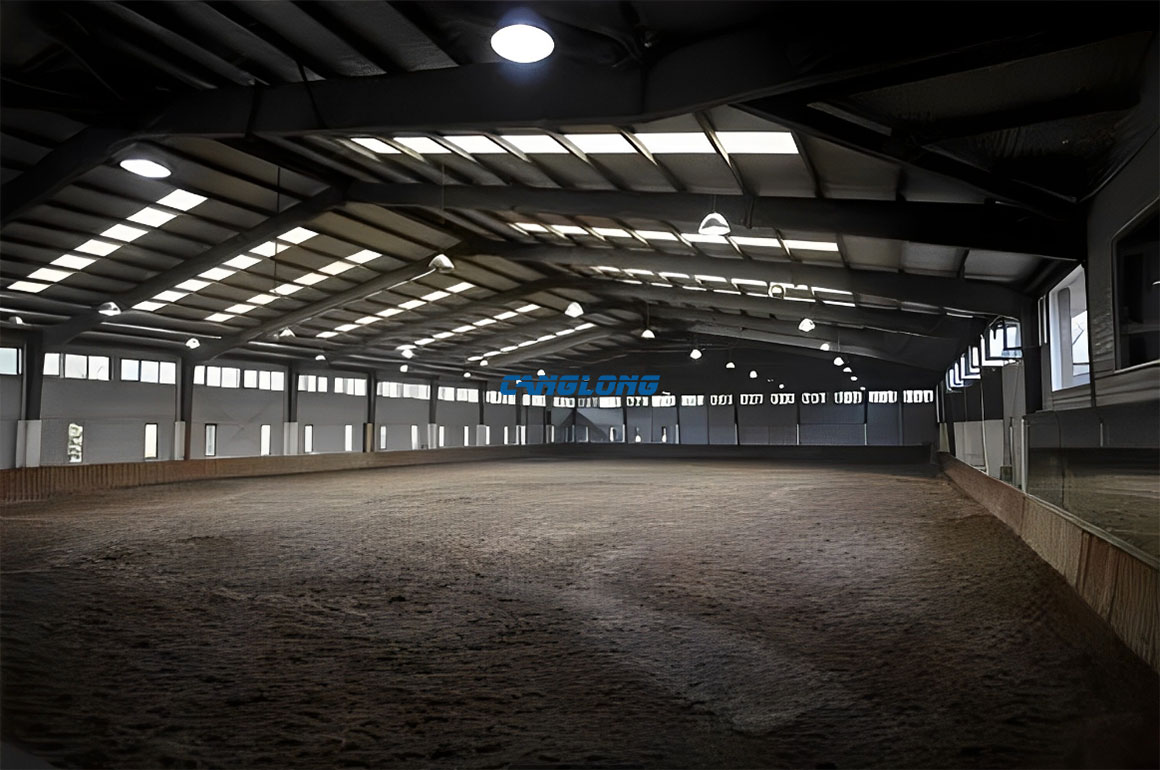 The steel frame structure can accommodate the largest arena widths of all structure types up to 60m or more. It has no columns, providing an unobstructed field for riding. Indoor riding arenas constructed of steel frame structure are known for their durability, strength, and sturdiness.
The size of the arena also plays a very important role in determining the cost of the project. The bigger your arena, the higher the cost. However, that doesn't mean you can sacrifice arena size for lower project costs. You want to invest in an indoor riding arena large enough so that it can meet your needs for years to come.

The size of an indoor riding arena is determined by width, length and height.
The minimum recommended width of an indoor riding arena is 18m, the minimum recommended length of an indoor riding arena is 36m, and the minimum recommended height of an indoor riding arena is 5m.
It is important to note that while the length of an indoor riding arena can always be extended, the width of a steel horse barn cannot be altered and therefore should not be skimped on. Also, if you plan to incorporate some jumping into your training, it's a good idea to readjust the height of the arena by at least 1m.
There are several different types of ground available, each at varying prices.
Most indoor riding arena owners use sandy soil foundations for their sites. This ground offers the perfect balance between stability and speed. For riding venues where jumping is emphasized during training, the ground composed of stone powder and rubber is the first choice.

Ventilation for indoor riding arenas
Adequate ventilation is critical to the operation of an indoor arena. It ensures your horse is healthy and ventilated indoors.
Ventilation in the riding arena can be provided by:
Examples of strategically placed openings include doors, windows and vented ridges.
Mechanical ventilation systems are more commonly used in insulated, heated stables and commercial indoor arenas.
Insulation for indoor riding arena
If you live in a cold climate, we strongly recommend that you keep your riding arena well insulated and insulated, this will help you keep your horse warm.
However, if the weather in your area tends to stay warm for most of the year, keeping your arena insulated is entirely your choice.
Get a Free quote