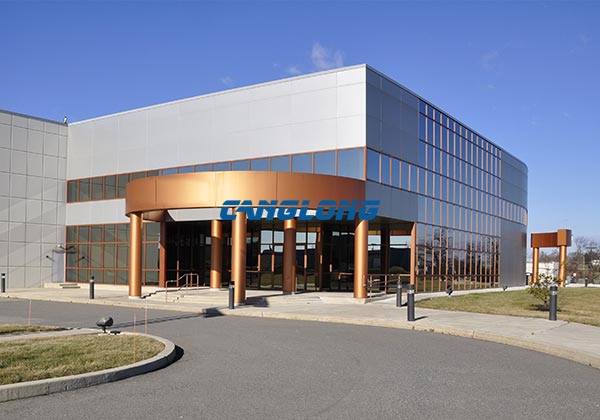 Steel Structure Office
Product Parameter
Place of Origin:
Henan, China (Mainland)
Standard:
GB Standard
Certificates:
CE, ISO9001
Grade:
Q235/Q355
Brand Name:
Canglong Group
Type:
Light Steel Structure
Surface Treatment:
Painted & Hot dip galvanized
Columns and Beams:
H-section Steel
Purlin:
C.Z Shape Steel Channel
Roof and Wall Panel:
Sandwich Panel, Color Steel Sheet
Product Detail
The steel structure office adopts a metal structure. The exterior wall is polyurethane sandwich panel and glass curtain wall, which is solid and durable.
It is equipped with French window glass, which ensures the brightness of the office.
Moreover, the wall siding is thermal insulated well, which is not cold in winter and not hot in summer.
Whether the steel structure office is  located in the plant area or the scenic spot as a mobile office, it is very coordinated and beautiful, and has been highly praised by customers.
Steel structure overview
The structural is mainly assembled by steel plate, hot-rolled steel or cold-formed thin-walled steel.
Compared with the traditional building structure, the steel structure house has many superior characteristics:
1. Good ductility and good seismic performance;
2. Light weighted and lower project cost;
3. High industrial production level and reusable;
4. Compliant with the international building standard;
5. Steel structure houses are widely used in industrial plants, warehouses, shopping malls, office buildings and residential buildings.

Structural system selection
For multi-storey steel buildings, when the aspect ratio of the building is less than 4:1, the steel frame is the main load-bearing structure. Its anti-side force system is mainly based on frame and support.
Plane layout and component design
The column spacing of multi-storey steel houses is generally 6m-12m.
The column is generally a box-shaped section column welded by steel plate.
The main beam is generally welded H-beam or hot-rolled H-beam. The span of H-beam frame is 6m-12m.
The secondary beam is generally a cold-rolled H-section steel with a narrow flange. The spacing of the secondary beams is 2m-3.5 m.
The column is vertically supported.
When the column layout is close to a square shape, the support may be arranged at the four corners and the middle portion; when the column layout is rectangle, the lateral support should be arranged at both ends and the middle portion, and the longitudinal support should be arranged in the middle portion.
Floor design
The floor is generally formed by pouring concrete on a steel decking to form a combined slab or a non-composite slab;
A stud connection is used between the steel decking and the steel beam.
The steel decking is not only used as a permanent formwork, but also as a lower part of the concrete slab, the tensile steel bar and the concrete work together to form a composite slab to withstand the floor load;
The non-composite slab steel decking is only used as a permanent formwork. Regardless of working with concrete, it is assumed that a composite floor is not formed, so it is called a non-combined floor.

Steel structure production line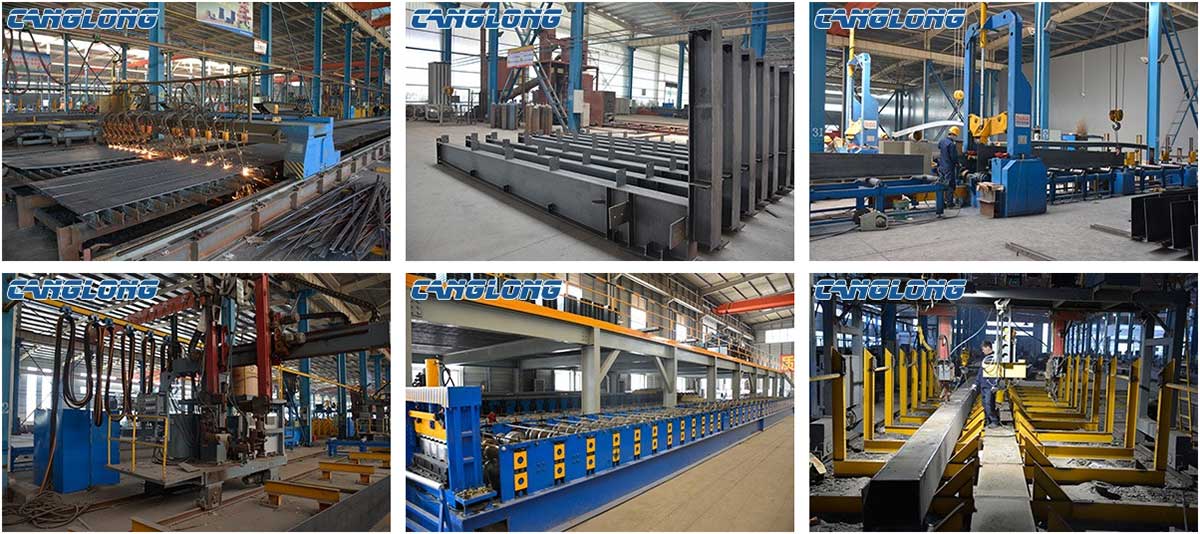 Get a Free quote