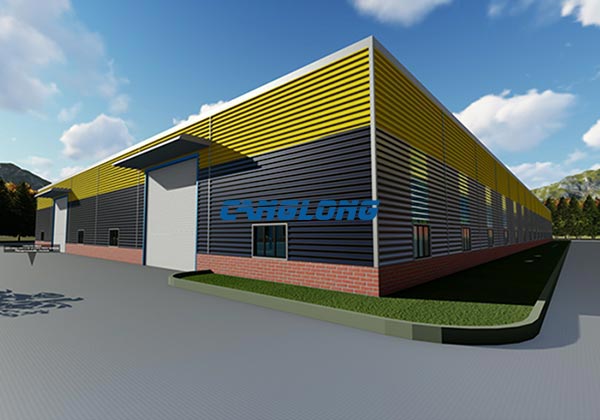 Steel Structure Workshop
PRODUCT PARAMETER
Place of Origin:
Henan, China (Mainland)
Standard:
GB Standard, EU Standard, ASTM Standard, BS Standard, AS/NZS Standard
Certificates:
CE, ISO9001
Grade:
Q235 / Q355
Type:
Light Steel Structure
Surface Treatment:
Painted & Hot dip galvanized
Columns and Beams:
H-section Steel
Purlin:
C.Z Shape Steel Channel
Roof and Wall Panel:
Sandwich Panel, Color Steel Sheet
Product Detail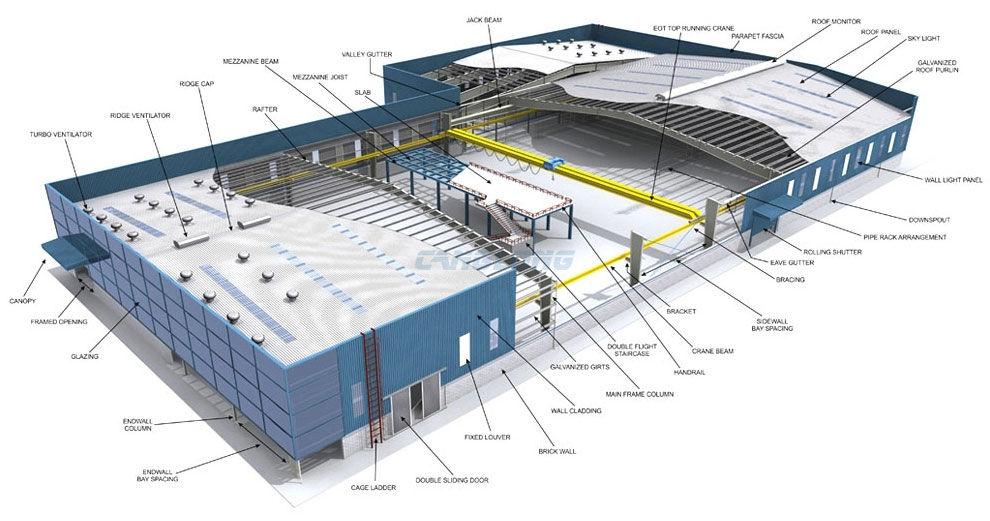 Steel structure workshop mainly refers to the main load-bearing components are composed of steel. Including steel columns, steel beams, steel structure foundations, steel roof trusses (of course, the span of the workshop is relatively large, and basically all are steel structure roof trusses now), steel roofs, and note that the walls of steel structures can also be enclosed by brick walls. Due to the increase in steel production, many new factories have begun to use steel structure workshops, which can be divided into light and heavy steel structure workshops. Industrial and civil buildings constructed with steel are called steel structures.

The performance of steel structure workshop
Seismic resistance: After the color steel sheet and sandwich panel are sealed, the steel structure workshop components form a very strong "plate rib structure system". This structural system has a stronger ability to resist earthquakes and horizontal loads, and is suitable for seismic intensity. above 8 degrees.
Wind resistance: The steel structure building is light in weight, high in strength, good in overall rigidity and strong in deformation ability, and can resist a hurricane of 70 meters per second.
Durability: The steel structure workshop is composed of cold-formed thin-walled steel component system, and the steel frame is made of super anti-corrosion high-strength cold-rolled galvanized sheet, which can effectively avoid the influence of corrosion of the steel plate during construction and use, and increase the service life of light steel components.
Thermal insulation: The thermal insulation material used is mainly rockwool sandwich panel, which has a good thermal insulation effect. The thermal resistance of R15 insulation cotton with a thickness of about 100mm can be equivalent to a brick wall with a thickness of 1m.
Comfort: The light steel wall adopts a high-efficiency energy-saving system, which has a breathing function, which can adjust the dry humidity of indoor air and ensure the ventilation and heat dissipation requirements of the roof.
Fast: Steel structure construction is not affected by environmental seasons. For a building of about 300 square meters, only 5 workers and 30 working days can complete the whole process from foundation to decoration.
Energy saving: All the walls are made of high-efficiency energy-saving walls, which have good thermal insulation, heat insulation and sound insulation effects, and can reach 50% of the energy saving standard.
Environmental protection: materials can be 100% recycled, truly green and pollution-free.
Main Components For Steel Structure Workshop
Steel Frame
 1.H section column and beam
 Q345 steel, paint or galvanization
 2.wind resistant column
 Q345 steel,paint or galvanization
 3.Roof purlin
 Q235B C/Z section galvanized steel
 4.Wall purlin
 Q235B C/Z section galvanized steel
Supporting
system
 1.Tie bar
 Q235 round steel pipe
 2.knee brace
 angle steel  L50*4,Q235
 3.roof horizontal bracing
 φ20,Q235B steel bar, paint or galvanized
 4.column vertical bracing
 φ20,Q235B steel bar, paint or galvanized
 5.purlin brace
 Φ12 round bar Q235
 6.knee brace
 angle steel, L50*4,Q235
 7.casing pipe
 φ32*2.0,Q235 steel pipe
 8.gable angle steel
 M24 Q235B
Roof and wall
protecting system
 1.Wall and roof panel
 corrugated steel sheet/EPS, PU, Rock wool, Fiberglass wool sandwich panel
 2.self tapping screw
 3.Ridge tile
 color steel sheet
 4.gutter
 color steel sheet/galvanized steel/stainless steel
 5.down pipe
 PVC
 6.corner trim
 color steel sheet
Fastener system
 1.Anchor bolts
 Q235 steel
 2.Bolts
 3.Nuts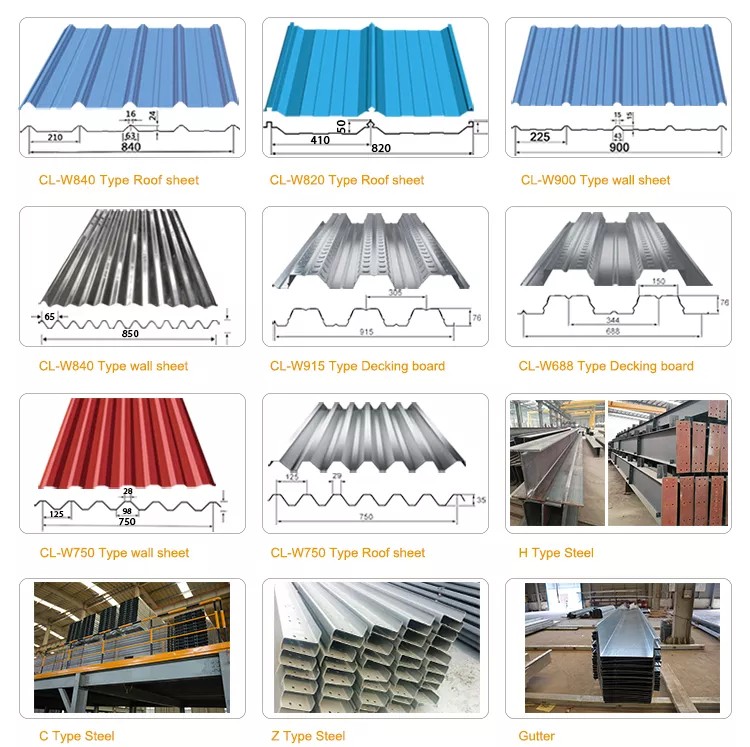 Type of roof structure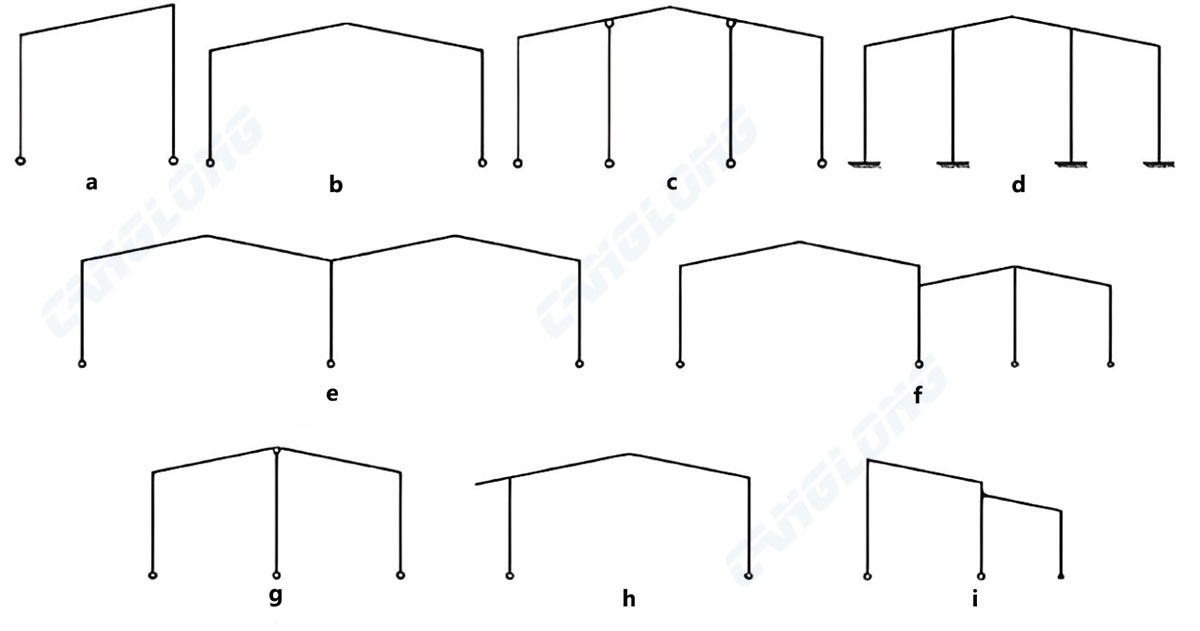 Installation of steel structure workshop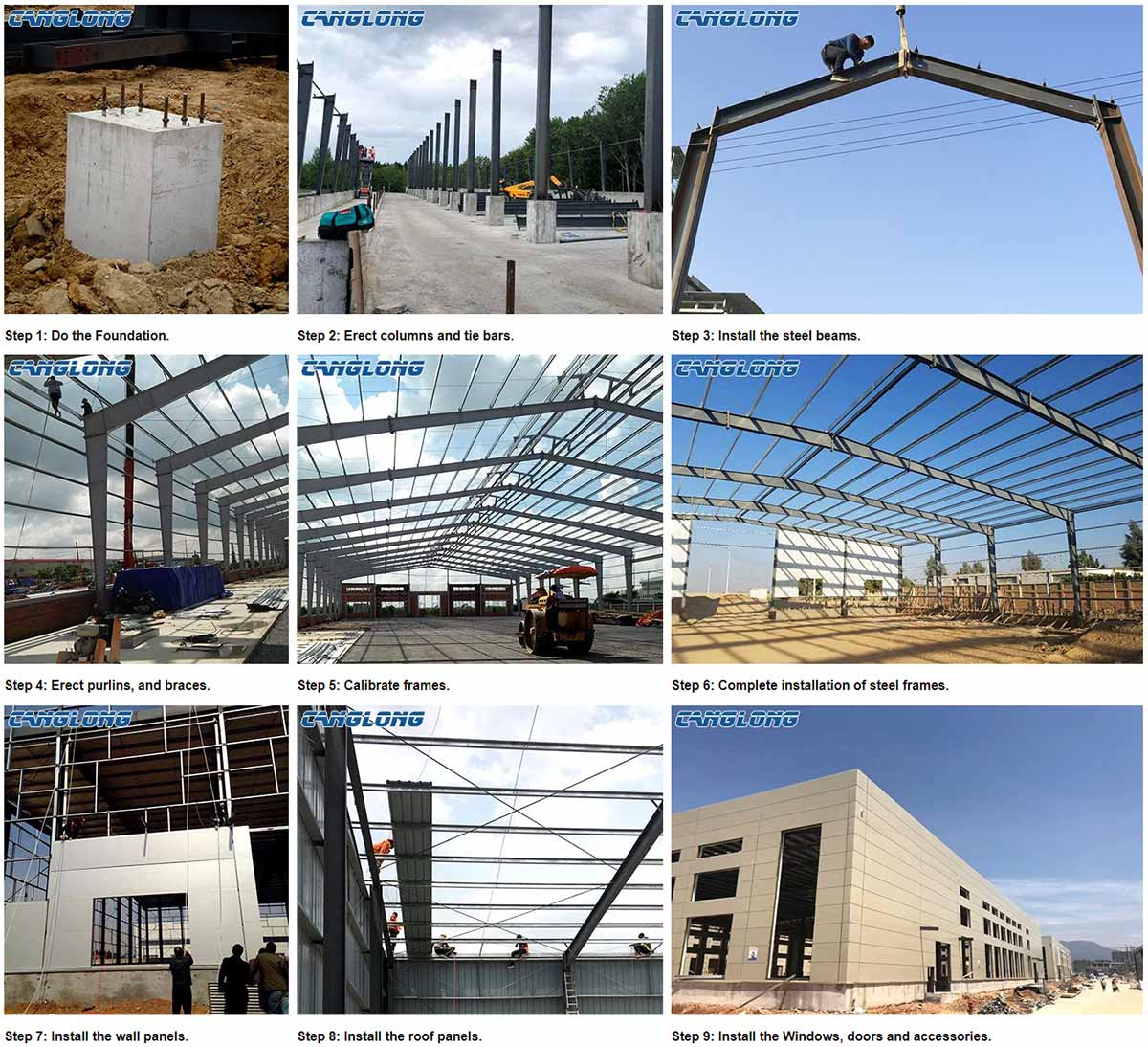 Steel structure workshop/warehouse project display

Customer project display

Customer evaluation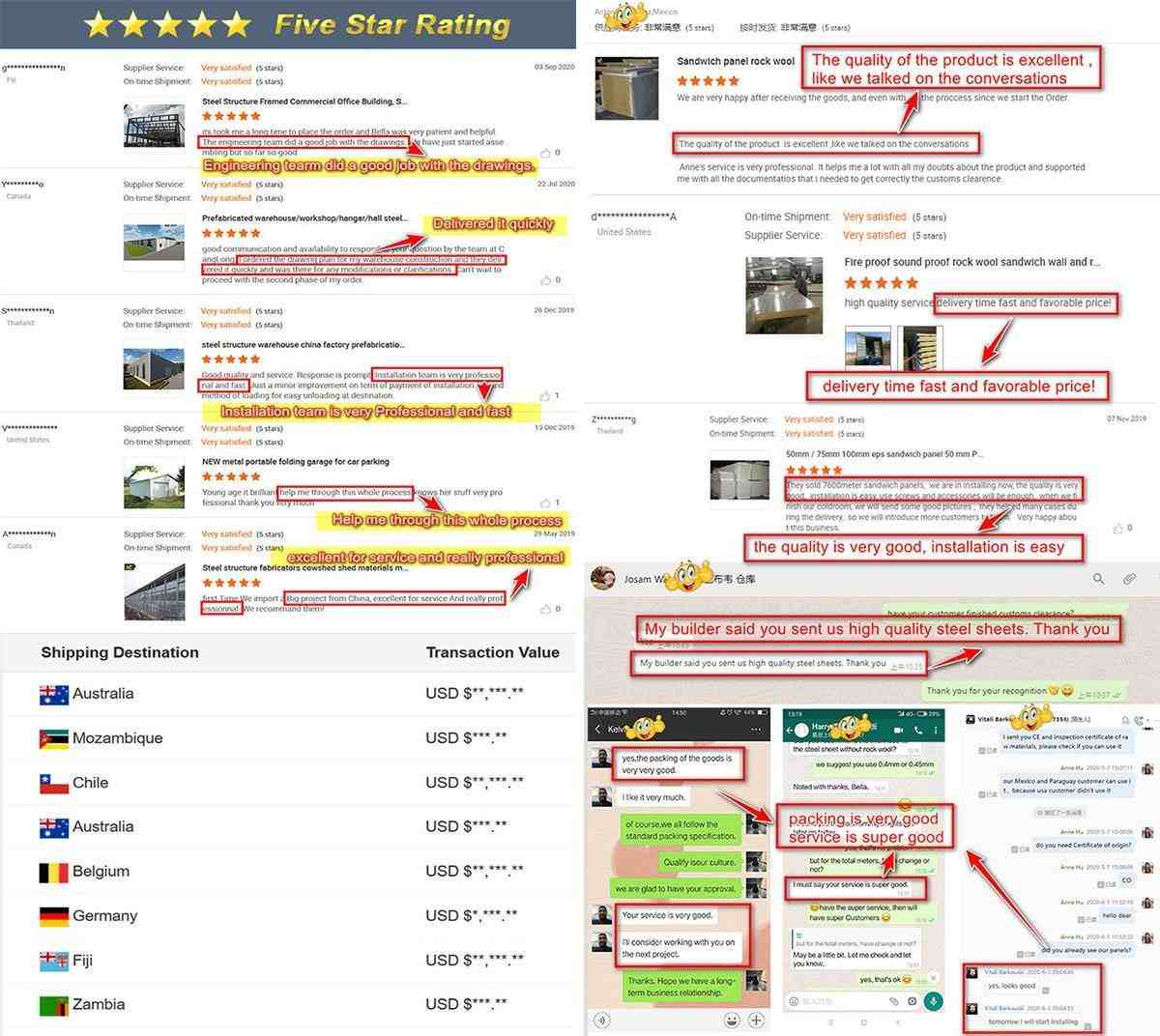 Get a Free quote