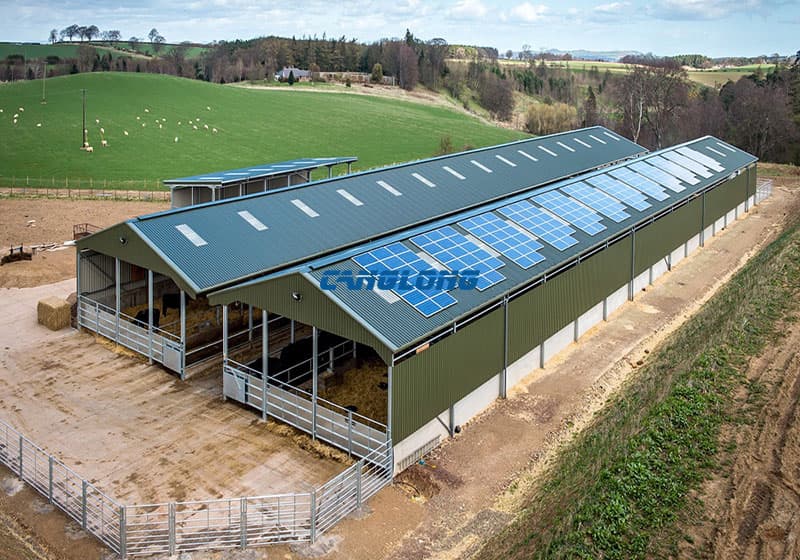 Prefab Steel Shed Buildings
Product Parameter
Place of Origin:
Henan, China (Mainland)
Standard:
EU Standard, ASTM Standard, BS Standard
Certificates:
CE, ISO9001
Grade:
Q235/Q355
Brand Name:
Canglong Group
Type:
Light Steel Structure
Surface Treatment:
Painted & Hot dip galvanized
Columns and Beams:
H-section Steel
Purlin:
C.Z Shape Steel Channel
Roof and Wall Panel:
Sandwich Panel, Color Steel Plate
Product Detail
Prefabricated steel shed building is a steel structure building designed and produced in advance, which can be used in various applications. Such as storing agricultural machinery or professional equipment, it can also be used as cowshed, horse shed, storage room and hay storage shed. Prefab Steel shed building can make construction easy and can be put into use quickly.
Prefab steel structure shed buildings can provide a clear internal space span, which can meet the needs of almost any customer. Suitable for industrial, commercial, residential, agricultural and recreational projects. With the ability to safely store feed, hay, animals and large equipment, steel shed construction has become an agricultural dream.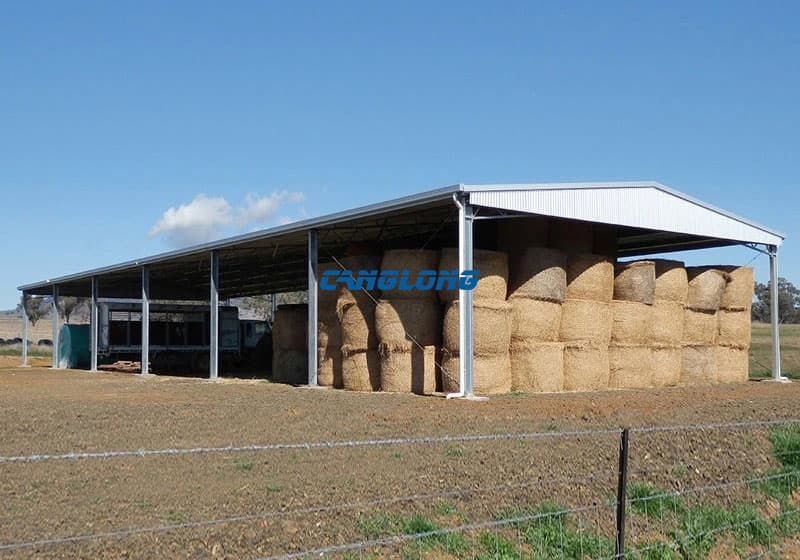 If you care about the health of your livestock, you can build a steel structure farm to accommodate pigs, sheep, cattle and horses. Horses tend to chew anything and kick internal columns, thereby destroying the structural integrity of buildings.
Steel barns do not require internal props to support them, and you do not need to change poles, animal pens, or posts frequently due to wear and tear from animals, decay, fungi, and insects. These animals will have a safe habitat and can move around safely, especially if you build a fence inside.
Steel shed construction can also better resist bad weather and help protect your animals from bad weather. It is very important to store agricultural equipment. By adding safety measures to your agricultural steel structure building, you can know that your equipment is safe.
Due to the open design of steel structure shed buildings, compared with wood structure buildings, you can easily move tractors and other equipment into buildings. It is no longer necessary to leave the equipment outside without the influence of weather factors or people.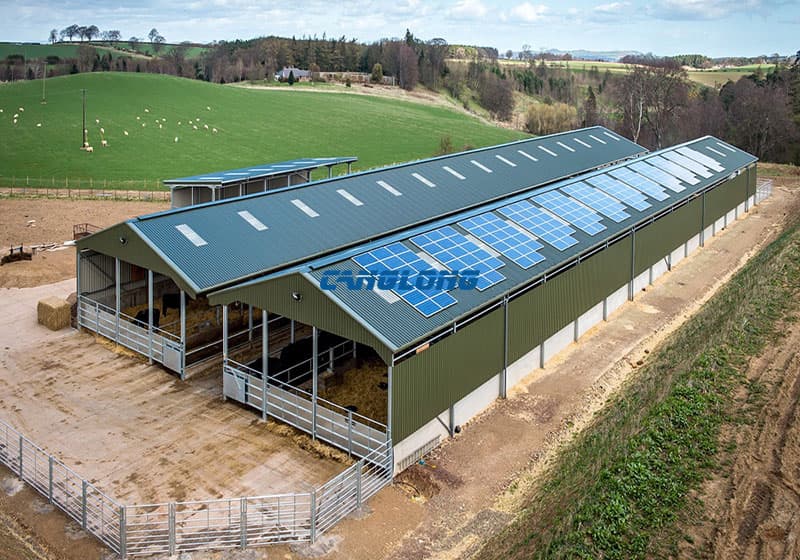 Types of prefab steel shed buildings
Prefabricated steel shed buildings are open, semi open and closed.
1. Open steel shed building
There is usually one wall, the other three are open, and even all four are open. This kind of greenhouse has the advantages of simple design, low cost, good lighting and ventilation, but poor heat preservation effect. It is often used in perennial high-temperature areas.
2. Semi open steel shed building
The semi open steel shed has three walls, with one side open. This kind of shed is suitable for places that are not too cold in winter.
3. Closed steel shed building
The enclosed steel shed has an entire wall and roof. The closed steel structure shed building has a complete wall and roof. There are some windows on the wall for daylighting, and there are skylights on the roof or windows on the wall for ventilation. In cold weather, it is important to keep the barn warm, so closed sheds are more practical.
You can choose the type you need, or we can design it according to your storage needs, feeding requirements and local climate.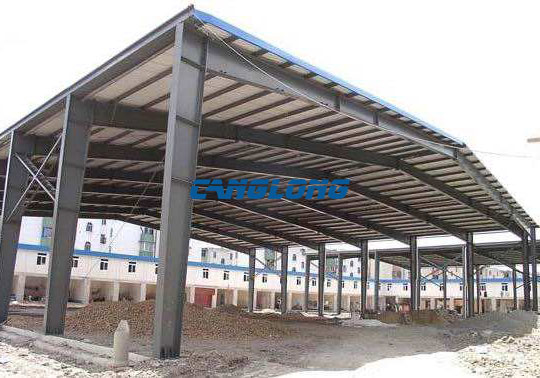 open steel shed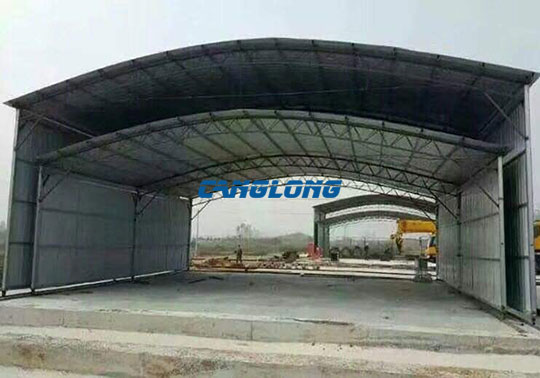 semi open steel shed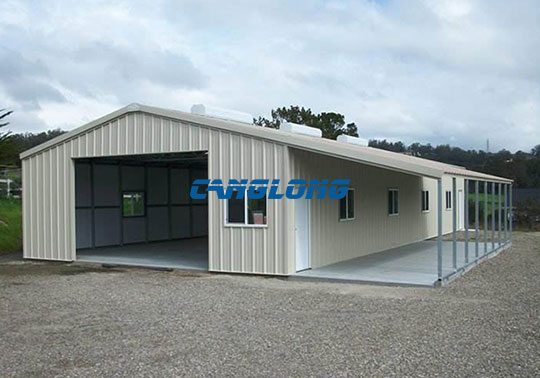 closed steel shed
Characteristics of steel shed buildings
Compared with cement buildings, prefabricated steel shed buildings can save a lot of time, energy and money. This can help those with limited budgets or time constraints.
In fact, prefabricated steel shed construction can reduce the trouble, time and cost of building a workspace or large storage area with personnel, various machinery or other requirements. Prefabricated steel structure shed building makes the construction process easier and can be built and assembled in a few days, rather than weeks or months of traditional buildings.
Prefab steel shed building is cost-effective. The steel structure shed is not only very strong and can stand the test of time, but also easier to use and more cost-effective, which can really help you reduce labor costs and shorten the project time.
Prefabricated steel shed construction is flexible. Everyone knows that steel is hard. But did you know that prefabricated steel structures provide almost endless design options and flexibility? Because the pre designed metal building aims to use as few materials as possible to create a solid and solid structure, you can remove the walls at any time to add additions to the building. It can be customized or changed according to your needs, and prefabricated steel structure makes this possible.
Worry free prefabricated steel shed construction. It is different from traditional buildings that need regular inspection and maintenance, especially after storms and other bad weather. Pre designed steel structure design can eliminate most guesses and concerns. Steel structures can not only resist strong winds, sandstorms, downpours and snowstorms, but also have strong insect resistance, such as termites and other pests.
Get a Free quote