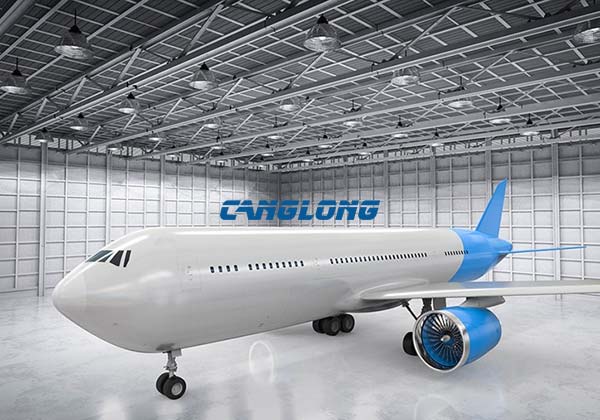 Steel Structure Hangar
PRODUCT PARAMETER
Place of Origin:
Henan, China (Mainland)
Standard:
GB Standard
Certificates:
CE, ISO9001
Grade:
Q235/Q355
Brand Name:
Canglong Group
Type:
Light Steel Structure
Surface Treatment:
Antirust painted & Hot dip galvanized
Columns and Beams:
H-section Steel
Purlin:
C.Z Shape Steel Channel
Roof and Wall Panel:
Sandwich Panel, Color Steel Sheet
Product Detail
Steel structure hangar, referred to as aircraft hangar, is a large-span single storey building for storage and maintenance of aircraft.Depending on the requirements of aircraft storage and maintenance needs, the plane layout, building height and structural form of hangars are also different, mainly depending on the following factors:
1. Simultaneously store and maintain the aircraft type and quantity, the maintenance items and required repairmentdegree.
2. Requirements and limitations of hangar structure height and layout.
3. Requirements for the installation of hangar gates and cranes and working platforms in hangars.
4. The configuration requirements of fire fighting facilities inside and outside of the hangars.
5. Site conditions and future development trend.

Structural form of steel hangar
The special plane layout and height requirements of the hangar directly affect the structure, which directly affect the structure of the hangar. Because of the large span of hangar, the proportion of structural dead weight (mainly roof system) in the total load is also large. If the structural dead weight can be reduced, obviously economic results can be obtained. The steel structure has the advantages of high strength, light weight, small section, weldability and simple manufacturing process, so it is common to use steel structure as roof bearing system in long-span structures. Space structure system has good force and light weight, which can solve some problems that plane structure system can not solve. Shell structure, grid structure, suspension structure and other spatial structures are widely used as roof systems of large-span buildings.
Characteristics of steel hangar
1. The assembly time is short. Once the structure of the steel hangar is designed, the foundation can be built in a very short time once it is ready.
2. Appearance color can be changed according to personal preferences, and different use purposes can choose to use different appearance color.
3. High strength and light weight. The strength of steel is very high and the weight of steel structure is small, so it can be made into a large span structure.
4. Plasticity and toughness. The steel has good plasticity and toughness, which makes the structure more adaptable to dynamic loads.
5. Reliability. The internal structure is uniform and the reliability of the structure is high.
6. Weldability. Because of the weldability of steel, the connection of steel structure is greatly simplified, and it is suitable for manufacturing structures with various complex shapes.
7. Sealability. The internal structure of steel is very compact. When to use welded joints, even if rivets or bolts are used, it is easy to achieve tight and non-leakage.

Choosing a steel structure hangar is a long-term, economic option. Our hangar will protect your aircraft from fire, snow, heavy rain and hurricanes. All of our metal hangar buildings are constructed of commercial high-quality steel. Our professionally technical team can help customize the hangar plan to meet your specific needs. Each metal hangar is manufactured in accordance with the requirements of international building codes and your specific location.
Our hangars can be customized design, rich in color, decorative style or decoration to meet your lofty aspirations. Even door and door mechanisms are customizable and self-installable, saving you money at every step of construction.
Get a Free quote