2 car steel metal garage for sale
Our metal garage building adopts flexible design, which enables our customers to adjust their new structure to meet their changing needs. Do you have a need for metal garage construction, which can be photography, using a special space for photo shooting and meetings. Type a garage can easily become a photography studio. Or you want a quiet and relaxing space. Our steel structure garage is very suitable for living as a shed. It can also be used as workshop, garage, household goods storage room, customized residential space, children's game room, etc. As long as you have requirements, we can meet them!
Characteristics of Canglong metal garage building
Up to 18 available color choices (depending on your installation location)
There are three roof styles, including regular, A-frame (box eaves), and vertical
Horizontal or vertical panels, as well as wall panel (two tone) color options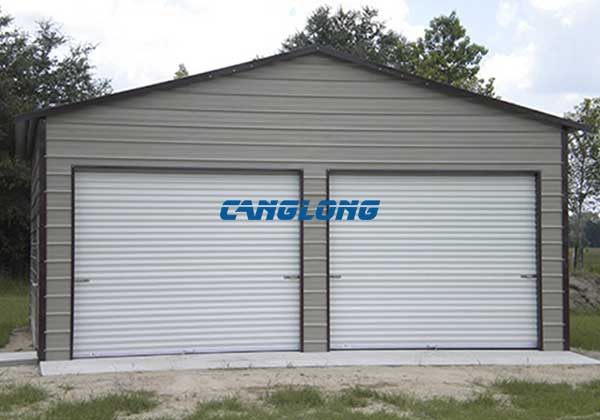 Our 2 car steel metal garage spacious multifunctional garage is very suitable for middle-aged families. It can naturally accommodate two cars, as well as family tools or various other odds and ends. For example, this metal garage is a good place to store children's sports equipment during the off-season.
The steel structure garage not only has a unique, but also has a wide range of uses. Grey panels and white trim are suitable for almost any visual environment. And our garage color and style can be customized. As long as you say your own requirements, our designer can give you the corresponding metal garage design scheme.
Canglong steel structure building company 2 car steel garage for sale, and provide you with the design and installation of 30×36, 30×51, 30×41, 26×36, 24×46, 20×31 and other metal garage.