Prefab steel structure car repair garage
Building function: car repair garage
Height category: single storey building
Factory height category: single storey workshop
Structural form: steel structure
Steel structure: portal frame, light steel structure
Structural safety level: Level II
Seismic fortification intensity: 6 degrees
The prefabricated car repair garage adopts light steel structure design. Q235B is adopted as the main steel component, and its chemical composition and mechanical properties shall meet the relevant provisions of national standards. Q235A can be used for cold-formed thin-wall section steel, roof slab and wallboard. The minimum yield strength of steel used for steel bearing plate is 345mpa.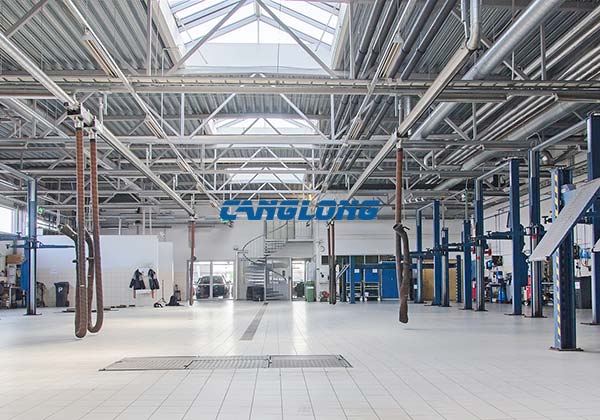 The fire resistance rating is grade II, the fire resistance limit of steel column is not less than 2 hours, and the fire resistance limit of steel beam is not less than 1.5 hours.
Anti corrosion treatment: shot blasting derusting grade SA2 5. Epoxy floating zinc antirust primer shall be used for two times, and the dry film thickness shall not be less than 20um / degree. Paint or oil stain is not allowed within the connection range of high-strength bolts and the bottom surface of column base plate.
Roof material and enclosure structure: the wall enclosure is Pu sandwich board, and the roof is set Φ 100、 Φ 150upvc rainwater pipe steel gutter, the roof material adopts 75 eps insulation board, the roof color steel plate adopts 50 eps sandwich panel, and the roof strip adopts cold-formed thin-walled steel c220.